Skoda Scala vRS on its way with Golf GTI-rivalling power
Skoda has plans to make the mid-sized budget family hatchback its next performance-oriented vRS weapon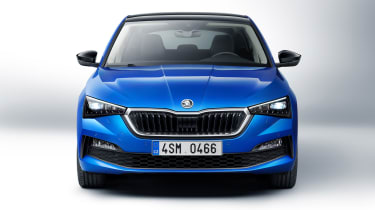 Following the reveal of the Skoda Scala late last year, officials have voiced interest in a performance-oriented vRS variant. Sitting in the same size category as models such as the Volkswagen Golf and Hyundai i30, a performance model would have some strong competition to contend with. The car would be the third vRS model after the Octavia and Kodiaq, and could feature the brand's first performance hybrid powertrain.
The Skoda Vision RS concept previewed the standard Scala last year, and combined a 1.5-litre turbocharged four-cylinder engine with an electric motor for a combined output of over 240bhp. This power output could match that of the next Golf GTI and would be just shy of the current Hyundai i30 N's 247bhp, making the use of a similar powertrain seem more likely. However, the Skoda will most likely be more of a rival for the Polo GTI for price and ability.
> New Skoda Scala revealed – budget hatch to undercut Focus and Golf
Christian Strube, Skoda's board member for technical development, has been pushing for a hybrid system in VWG cars is recent times, and although he declined to comment on whether one would be used in a vRS-fettled Scala, he also said: 'A performance version of the Scala is very interesting from an engineering perspective. It's a type of car that I'm pushing for.'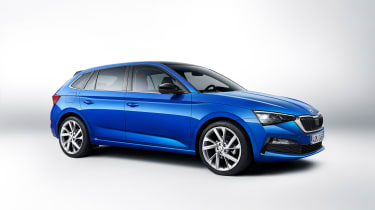 Speaking at the Geneva motor show, Skoda board member, Alain Favey, said: 'Officially we have not decided anything, but yes, we are considering a Scala vRS. As far as I am concerned, it would make sense for us to have one.
'The reality is that we have been extremely successful with the Octavia vRS. And early signs for the Kodiaq vRS are encouraging; it is hitting its targets and more. So even in a package which is not a conventional sports car, a sporty version makes a lot of sense.'
Favey added: 'On a personal level, I would love to have [it]. But it needs to make sense in terms of profitability and it has to exist in the context of the CO2 targets we have to achieve for next year. There are a number of elements that you have to take into consideration – more than there used to be some years ago.'