Latest evo issue
Lamborghini LP570-4 Superleggera, Porsche 911 GT3 RS meets Route Napoleon, Ferrari 599 v Bentley Supersports v Aston DBS, Toyota AE86 and hot hatch group test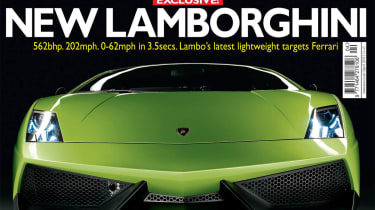 evo Issue 142, in shops now. Subscribe here
NewsThey said it would never happen… It's a hybrid Porsche 911. (Ferrari has unveiled a hybrid too – but they've been hinting for some time that that might happen)
DrivensThe Maserati GranCabrio, all-new Jaguar XJ, Nismo's Nissan GT-R and some hot SEATs get the review treatment while we look at some evo 'outsiders', the Ford Transit, Skoda Yeti and Land Rover Defender
LettersQuill meets digital with a thread from the evo forum alongside the letters – OMG!
Lamborghini Gallardo LP570-4 SuperleggeraLighter, more powerful, more aero and very, very green paint. Lots of lovely pics here
Porsche 911 GT3 RSChris Harris takes the mad new GT3 RS to meet the mad François Delecour. He must be mad
Full-size Sand ScorcherTamiya's legend is now a very big boy's toy... evo Video this way
Bentley Continental Supersports v Ferrari 599 HGTE v Aston Martin DBSAre these big GTs cold comfort or an icy blast in a very wintry North Wales?
Toyota Corolla AE86 meets FT-86We drift the cult rear-wheel-drive hatch all the way to Belgium to see Toyota's latest concept
Citroën DS3 v Mini Cooper S v Abarth 500 v Renaultsport Clio 200 CupThe impressive new French hot hatch takes on its arch rivals
KTM X-Bow to the Arctic CircleNick Trott bungees a bag to the bodywork and heads north to find a circuit on the roof of the world
Long-term testsTwo new hatchbacks this month. One yellow, one blue. One front-wheel drive, one rear-wheel drive. We also peer into the depths of Harry Metcalfe's garage
ShowroomThinking of buying a SEAT Leon Cupra? We've got good news…
The Knowledgeevo's first Track Battle. Porsche 911 Carrera S or Carrera 4S, which is faster, which is better? evo Video this wayAsk the ExpertsAs the snow doesn't look like lifting until August, we tell you how to drive in itBirth of an Icon - Honda Integra Type-RRumour has it that they lost money on every single one