Chris Evans buys a 250 GTO
The Radio 2 DJ buys another iconic Ferrari. Harry Metcalfe reports.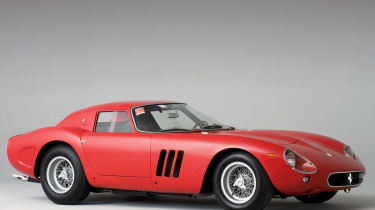 Chris Evans has finally realised his dream by agreeing to a private deal (via RM Auctions) to buy a 1963 Ferrari GTO previously owned by a Japanese collector since 1996.
Having sold his 1959 Ferrari 250 GT LWB California Spyder (for £1.75M) and his Ferrari 250GT SWB Berlinetta (£2.25M) at the RM Auctions sale held in Monaco on the 1st May, he has been negotiating, behind the scenes, to buy a privately owned 1963 250GTO, finally agreeing a deal on the car speculated to be for around £15M.
This particular 1963 250 GTO is later Series II version (so slightly different to the famous Series I 250GTO owned by Nick Mason) with the 3-litre V12 engine producing 302bhp@7500rpm, a claimed top speed of 174mph and comes with an excellent racing pedigree. Chris Evans now intends to use his new car extensively in various classic car events throughout Europe. Let's just hope he doesn't paint this one white as he's done with several of his other Ferraris…