Buy a copy of evo 178 in our online shop
Subscibe to evo electronically on Zinio here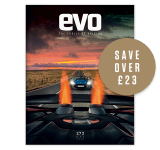 Subscribe to evo magazine
Subscribe today to have every issue of evo delivered straight to you. You'll SAVE 39% on the shop price, and get evo for its original cover price for a whole year!
Try evo Magazine's fantastic iPad app here
NewsPlenty of new metal to pore over, including the second-gen Porsche Cayman, a drop-top Lambo and the new Jaguar XFR-S
ColumnsRichard Porter's been whining again, but at least Harry Metcalfe and Tiff Needell are cheery – about the quality of the new Aston DB9 and the fun of rear-wheel-drive cars, respectively
First drivesWe review the new Mercedes SLS AMG GT, Mini John Cooper Works GP, supercharged Jaguar XF, Vauxhall Adam city car and a pair of quick little Mazda MX-5s
LettersWhat's the daftest thing you've ever done in a car? Chortle incessantly at (or nod along awkwardly with) our forum users
Noble road tripDickie Meaden kicks off our Spirit of Speed special with a 400-mile road trip visiting some of Great Britain's speed record hotspots in a suitably fitting supercar, the 225mph and wholly home-grown Noble M600
200mph in a MustangYes, you read that right. Ford claims a shocking double-ton is possible in its new Shelby GT500 'Stang. Jethro Bovingdon heads for Germany's derestriction signs to put it to the test
Bentley at BonnevilleThe Bonneville Salt Flats are the home of jaw-dropping records and streamlined, speed-focused machines. So what's a leather-pewed Bentley Mulsanne doing there? David Vivian explains all
Land speed greatsDickie Meaden enjoys a dose of Thrust as he gets up close and personal with the fastest car in the world, Thrust SSC, and its forebear, Thrust 2
Caterham's new carsCaterham's new R600 and SP300R possess similar power outputs, but utilise them in quite different ways. Henry Catchpole has a day to remember driving them at speed at Donington Park
Infiniti Emerg-eSpeed will be different in the future, as Infiniti's electric-powered Emerg-e proves when Mike Duff clambers behind the wheel. And it's good news…
Super GT group test2012 has been a vintage year for new GTs. We pit the new Maserati GranTurismo Sport against Aston's rejuvenated DB9, Bentley's V8 Conti GT, the BMW M6 and Mercedes' CLS AMG
Maserati: the futureMasers may be good, but they remain a rare sight. Mystic Meg-calfe looks into his crystal ball to see what the fix is, and gets to grips with the new Quattroporte along the way
Long-term testsWhat-ho Audi RS4 and Porsche 924, goodbye Morgan 4/4 and Golf GTI. Plus, our Murcielago gets quite hurt
evo KnowledgeCraving a hardcore hot hatch but hampered by budget? Used Renaultsport Clio 197s and 200s can be bought for small money
Fantasy garageThe challenge: buy an everyday supercar, a classic and something bike-carrying and practical for £200,000. Your ideal trio?
Me and My CarThe creator of an evo favourite – the GoPro video camera – and his mega car collection
Buy a copy of evo 178 in our online shop
Subscibe to evo electronically on Zinio here
Try evo Magazine's fantastic iPad app here