'Maybe it's a sign of the times. In all likelihood, we'll look back on the 2010s as the era of grey'
The choice of paint colours car makers currently offer is unspeakably dull. Porter reckons he knows why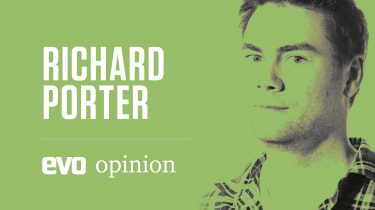 Looking down my street is a strangely monochrome experience. There's a grey car, a black car, a white car, a grey car, another grey car, another white car and on it goes until you get to our house with my wife's car outside, which is white. But don't worry, next week she's getting her new car. Which is grey. I was going to say that, as a nation, we're not very imaginative when it comes to choosing car colours. Not like we were in the 1970s, when every British car showroom exploded with a range of eye-strangling greens, browns and yellows, as if car makers drew their colour palettes from what comes out of the various holes in a baby.
But have people really lost their bravery and imagination? Or is it that we're being denied the choice as car companies steer us towards a dreary palette of off-greys? The new Merc  E63, for example, is available in two standard colours – black or white – and six optional metallics, two of which are silver. If you want something truly vibrant you'll have to spend 900 quid to enter the up-spec 'Designo' range, which contains just three colours, one of which is bright red. The other two are white and grey.
> Click here for our drive of the Aston Martin DB11 V8
I'm not singling out Mercedes for being dreary, firstly because it does that uncommonly zingy and delightful blue you see around on C-classes, including Richard Meaden's C63 Fast Fleet car, and secondly because this is the case with all car makers. Of the 11 colours available on a mid-range Jaguar XE, for example, seven are black, white, silver or grey. If you want normal metallic paint on your Audi R8, you have just four choices: silver, grey, black or a very dark green. Or, for no extra cost, you can have a pearl-effect finish. In grey. Then there's BMW. Alongside a whole platter of the usual non-colours, it'll do you an M4 in run-off-area blue, fake-blood red or chest-infection yellow, but if you're ordering a 330i, the most exciting colour you're allowed is an unremarkable red.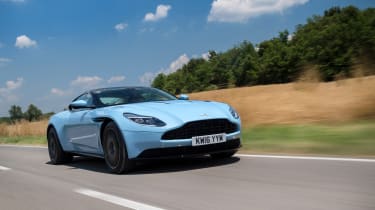 To get truly interesting paint choices you have to look to the pricey end of things. If you're speccing an Aston Martin DB11, for example, you're plunged into a technicolour world so vast Timothy Leary would get a headache. You want your V12 GT sprayed the colour of 1950s toothpaste? Always dreamt of marshalling 600 horsepower inside the skin tone of a Wilmslow gym instructor? Wish to develop a sudden craving for a can of Fanta every time you whip off the car cover? Not a problem, sir. It's the same at McLaren where, thanks to the excellent time-vacuum of its new configurator, I discover the 720S can be built in a heady range of paints spanning everything from 'The dog's not well' to 'Uncle Peter's fourth heart attack'. 
This is more like it, I found myself thinking as I worked on my seventh new spec for the mythical McLaren I will not order. And then, in a standard online game I play over and over again, I shifted from simply trying to push the boundaries of taste and expense and started designing the spec I'd actually want to drive. Now, the 720S is a supercar. It's never going to move discreetly and silently down the high street. People look at supercars. You may as well give them good reason to stare by ordering one the colour of a trippy Tellytubby. And yet… every time I do the online design for the car I'd actually order, I find myself erring towards those subtle silvers and tasteful greys.
Everyone's painting their living rooms muted, flat Farrow & Ball colours like Mouse's Despair and Badger's Ballbag, and the same is true of cars. I'd love to say that my new Aston DB11 is turning up next week and it's the colour of a particularly terrible sneeze, but that probably wouldn't be true, even if I had 155 grand to spare. Nor is my imaginary McLaren 720S about to enliven the neighbourhood with its sports exhaust and panels the colour of a baboon's bum. I'd love to, but I have to wonder if I could summon up the guts.
Maybe that's why the average car is silver, white or grey. Car companies are giving us what we actually want, rather than what we wish we were brave enough to order. Which is a shame because I really, really lust after a DB11. I'd love to buy a 720S too. And, in the unlikely event this ever happens, perhaps I need to be bold on the spec. If nothing else, I think I owe it to my street.