'As a cosmetic add-on, carbonfibre is ugly, unpleasant, and incredibly vulgar'
Richard Porter has his say on carbonfibre as an aesthetic addition to the car.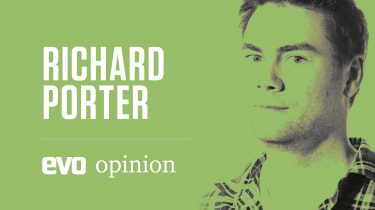 When you order your McLaren 720S, you will be faced with a bewildering series of choices. Do you want a sports exhaust? Do you want orange seatbelts? Do you want a lap-timer and three built-in cameras? Do you want an ashtray? That last one is only 50 quid, making it something of a bargain next to the £150 fire extinguisher or the £510 banjo strap to hold down your bag. And we haven't even got to the carbonfibre yet.
With the 720S, you can have carbon on everything. Carbon splitter, carbon vents, carbon intakes, carbon bumpers, carbon diffusers, carbon seat-backs. If you're feeling really flush, why not spec the carbonfibre exterior mirror arms, a snip at £3500? Play around with the McLaren configurator and you'll find there's no part of the car that can't be optionally rendered in carbon, to the extent that it would be unsurprising to find checkboxes for carbon tyres and a carbon windscreen. Spend too long on there and you become so snared in a world of carbon options that you start to lose all perspective on what 'carbonfibre' actually means. Can this be carbonfibre? What are carbonfibre? Am I carbonfibre? A lovely portion of carbonfibre please, nurse.
McLaren isn't alone in this, of course. Ferrari and Lamborghini will happily slather vast swathes of your next supercar in carbon weave if you choose. Mercedes will take £3370 and give you carbon fillets in the bumpers 'n' skirts of your C63. Hand Jaguar £1045 and they'll garnish the dash in your XE S with the stuff. Everyone's in on the carbon-trimming game these days, which is fine except for one teeny, tiny little problem. Carbonfibre is sodding horrible.
> Click here to read our McLaren 720S review 
Obviously I wouldn't be saying this if I were an F1 driver and heading directly towards something likely to cause an uncomfortable accident, such as a barrier, tyre wall or Lance Stroll. In that context carbonfibre is absolutely marvellous stuff. It's light, it's strong, and top-end motorsport would be much worse off without it. As a functional item, I've nothing against carbonfibre at all.
As a cosmetic add-on, however, it's time we all admitted that it's ugly, unpleasant, and incredibly vulgar. If you do it with the micron precision and mirror-image weave of Pagani, I can see there's something mildly pleasing about it, but bog-standard dashboard-trim carbonfibre, especially the fake, printed stuff, just looks like a '70s telly gone out of tune.
I'm sure some car designers think it's interesting and technical, but it's not. Even slathered with a glossy lacquer it looks jagged and raw. That's fine on a racing car, where it's there to do a job, but as a cosmetic add-on it's vile. You wouldn't have the stuff in your house, would you? Carbonfibre is so nasty to look at that it wouldn't be at home even amongst the black leather and depressing laminate floor of a divorced-dad flat. So why is it being smeared all over our cars like Ron Dennis's idea of a dirty protest?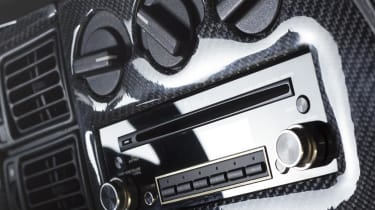 > Click here to read our Porsche GT2 RS review
Well, you might say, it's weight-saving. Except it isn't. Switching aluminium dash veneers or black air-dam inserts for pieces of carbon just makes your car look worse. If it was all about the weight-saving, the car companies could run to a few nanograms of paint on top to hide the wretched stuff from view. But they don't, because this kind of carbonfibre is there to be seen. Specifically, it's there so that awful bores can nod knowingly as if it's truly making their handling better, when in truth they could make a more significant contribution to mass reduction by going for a sturdy turd.
There's a lot of nasty carbonfibre around at the moment, but I struggle to think of a more egregious example than the ugly weave that comes as standard on the roof of the generally disappointing BMW M3. That's a weight- saving measure, the company might claim. And yet the M3 also comes with light-up M badges in each of the front seats. So it's not serious about saving weight, it's just serious about appealing to clueless buffoons.
However, I wouldn't say the same about the McLaren 720S. I know John Barker had some reservations when he drove it in evo 234, but it sounds like a phenomenal piece of engineering, right down to the entirely appropriate and legitimate use of carbonfibre for the cleverly designed central cell. It's a remarkable looking thing too, and in years to come I think we'll look back on it as a notable moment in the evolution of supercar styling. Just as long as we can find an example that hasn't been covered in cosmetic bloody carbonfibre.