'I'm daydreaming about a car tailor‑made for our appalling roads. Fluid, accessible and involving'
Is it time for a rethink about what we want from the chassis of a driver's car?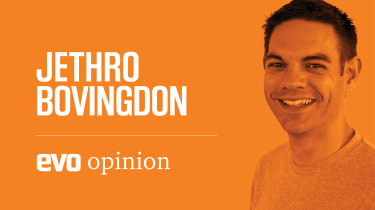 I drove something recently that made me re-examine the direction of performance cars. It came after a run of test cars wearing big wheels and low-profile tyres and unashamedly tuned towards locked-down body control and, I suspect, pretty mighty performance on a track. The best of which was the A45 AMG. Wow! This thing had completely passed me by but absolutely blew my mind. I'd expected the furious power but the chassis shone brighter still. Scalpel sharp, beautifully adjustable and with agility more than skin deep. 
Bloody hell it's stiff, though. Not helped by seats that appear to stretch leather over carved granite. My 11-year-old daughter described it as 'the least comfortable car I've ever been in'. I ignored her, of course, but grudgingly came to realise she had a point. Over the worst roads near my house it felt a bit like a pinball as it jinked, yumped and scratched its way from A to B. 
Then it arrived. In Python Yellow. God, it looked um, okay, I suppose. And it promised, well, hardly anything at all. It was called – I've just looked this up to be sure – the Audi A1 citycarver 35 TFSI 150PS S-tronic. Can you picture it? Probably not. Do you care? Almost certainly you don't. Does it have an absurd name that somebody in the marketing department should be strung up for? Absolutely. Was it fun? Well, weirdly, I think it was. Especially on those rubbish roads I mentioned before. 
> evo Car of the Year 2021 – on sale now!
The citycarver follows in the illustrious footsteps of the Rover Streetwise (google it, kids) in that it's a supermini with slightly raised suspension and a sliver of crossover in its genes. I know. I used the 'c' word. Disgusting. However, this massively unpromising formula delivers a surprising driving experience. As our roads get worse and worse (and worse) the chubbier sidewalls, longer travel suspension and focus on fluidity instead of determinedly shutting down body roll, pitch and dive results in a compact, relatively light car (1205kg) that floats where so many crash and thump, and telegraphs any breaches in grip about a week before they happen. 
I'm not going to pretend the citycarver (the marketing team insists on the lower case) is perfect or deeply thrilling. However, because it's not a fully fledged hot hatch and doesn't have to be hung up on lap times and lateral G, it seems to have discovered some other great attributes almost by accident. Imagine the same formula deliberately employed on some of our favourite cars…
The most obvious candidate is the GR Yaris. Maybe it should come in two versions: the tough, immediate and punchy GR Yaris Tarmac and its wildly extroverted brother, the GR Yaris Gravel, with ride height up 70mm (just like the competition versions), light pods fitted and a super supple, highly expressive set-up that would let it glide over ravaged road surfaces and feel truly unique at any speed. My feeling when I drove the Yaris at eCoty was that it could do with being sharper and more hard-edged, but the little Audi has sparked the inspiration for this even more appealing approach. 
Wherever you look there are candidates for this alternative treatment. Lambo even flirted with it for the Huracán when it let a few journalists loose in the Sterrato ('dirt road', according to Google Translate) concept in 2019. Guess what? They all loved sliding around a rally stage in a mid-engined V10-powered rally refugee. But I bet they would have enjoyed it just as much on a crappy B-road or a craggy C-road in Spain. 
Sadly, not a peep has emerged about the Sterrato since. However, there is hope. Alpine showed the SportsX concept along similar lines in early 2020 and even more recently pictures and video have emerged of a mysterious 911 testing around the Ring. Strange cladding stuffed into the wheelarches conceals a much more generous ride height, and the internet, quite rightly, has gone crazy over the possibility of a 911 Safari. Sounds pretty enticing to me.
Of course, such mouth-watering cars would be built in small numbers and sold at a huge premium. Cool, but frustrating for many of us. So for now I'm daydreaming about the next S1 offering a citycarver variant (please change the name, though). With 250bhp, four-wheel drive, a six-speed manual 'box and sophisticated gravel rally-spec dampers, it could be a fantastic way to reinvent the hot hatch, fool crossover fans into a hatchback (providing good volume and hence a real legacy) and gift driving enthusiasts a unique experience and a car tailor-made for our appalling roads. Fluid, accessible, adjustable and involving… Forget Nürburgring times, maybe the new benchmark could be how fast these things get through the Ouninpohja stage on Rally Finland. Extra points for the longest jump, obviously.