'Alpine's leading a lightweight revival and that's something we should all be overjoyed about'
What excites me most is that it could be the beginning of a new and thrilling family of sports cars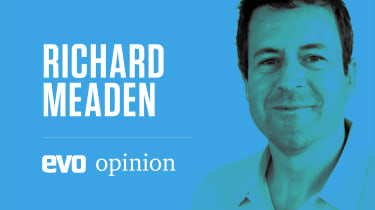 I've been a fan of fast Renaults and Alpines in particular for as long as I can remember. My parents had a new Renault 5 GT Turbo Raider, which was followed by a new Clio Williams, and prior to the arrival of those fine hot hatches in the Meaden household I'd long been fascinated by an ageing A310 V6 that was parked in an unprepossessing housing estate on my route to college.
Rare and quirky, this dramatic slice of French fibreglass seemed so out of place parked on a suburban street that it left a real impression on me. Likewise the purple V6 Turbo Le Mans that graced the cover of Performance Car magazine around the same time, and the yellow A610 long-term test car run by Peter Tomalin in the same magazine in the late-'90s.
I've still not managed to drive an A310 or A610 – gaps in my experience I really need to address – but this only seems to reinforce the mythical status these exotic machines assumed in my head all those years ago. Every now and again I scan the classifieds for them, knowing they'd be trouble and that I don't have the cash, but also knowing that one day I will have one. While the road cars have eluded me, such is the strangeness of my job I've been fortunate to experience a number of Alpine competition cars. Most recently the 1978 Le Mans-winning A442B at this year's Festival of Speed, and most notably racing an exquisite, diminutive and wonderfully streamlined M65 at Le Mans Classic a handful of years ago. Both true hero cars with exceptional history – thrilling chapters in one of the most storied sporting automotive brands of them all. Few names, Porsche included, can claim a greater breadth of success. Fewer still have a cooler back catalogue of road, race and rally machinery.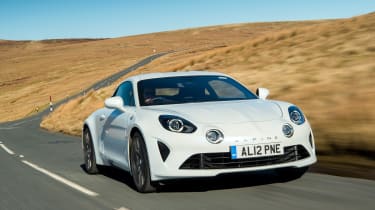 It's against all this that the new A110 was delivered to my house. A pre-production left-hand-drive example in that beautiful azure blue metallic that suits old and new A110s so well, it was very definitely a case of love at first sight. But it was also tempered by a very real fear that it might fall short of my elevated hopes, not to mention the glowing reports I'd read in the motoring media. What I've experienced this week has left me utterly smitten and rather dumbfounded. Not because I had a reason to feel Renault Sport's talented team was somehow deficient, but because in recent years Alfa Romeo and Porsche have shown it's not easy to make a truly desirable four-cylinder mid-engined sports car.
It's not often I get in a car and feel it's genuinely something exceptional. And by that I mean a game-changer. Another lightweight mid-engined sports car – the S1 Lotus Elise – still sets the high-water mark for me, but the A110 comes close. Very close. In industry terms it's a remarkable achievement because it signals the rebirth of a pure and dynamic brand with huge potential. For the first time in a very long time not only do we have a car fit to be mentioned in the same breath as the Cayman, but one I know I would choose over the previously impregnable Porsche.
I won't labour over describing the styling, as you all know what the thing looks like. Suffice to say I think it's one of the best pieces of design in recent years. What's just as impressive is the way it goes, sounds and feels. Alpine paid great attention to saving weight, and you can feel it in everything the car does. There's grip and poise and feel that roots you to the road and connects you to the car.
Unlike Alfa's uncouth-sounding 4C and the Cayman's effective but horribly thrummy flat-four, the A110's motor is sweet and characterful. Even the paddle-shift transmission – a low point in the RS Clio – is a pleasure to use.
The brakes have great feel and power, the chassis has a great combination of reassuring balance and generous grip, but at the same time telegraphs what it's doing from low speed onwards so you get something from it without having to drive the wheels off it.
What excites me most about the A110 is that it could and should be the beginning of a new and thrilling family of sports cars. I don't have the inside scoop on Alpine's future model plans, but given the A610 was always seen as a left field 911 rival I'd love to see a big brother for the A110 challenge the iconic Porsche on its own terms. Given the brand's Le Mans-winning pedigree (Google some of Alpine's efforts from the '60s and '70s – they are mind-blowing machines) and Renault's growing presence in Formula One I'd also love to see Alpines back at La Sarthe in the top category rather than just LMP2.
I know, I'm getting over-excited, but a great new (or newly revived) sports car brand is a rare thing indeed. Alpine is spearheading the lightweight revival, and with Lotus now enjoying investment from Chinese owner Geely, we have some truly cracking cars to look forward to.