'The Ferrari 488 Pistas of the world may be 'better' on paper, but they're not a patch on the 'flawed' F40'
The demands the F40 places on you to keep it on the boil would never be sanctioned today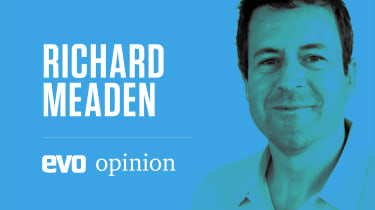 One of the great joys of being car enthusiasts is that, though we're all united by the same passion, we're all wired slightly differently. For instance, some people love Citroën 2CVs, but I can't abide the darned things. Similarly, I have a life-long love of original Minis and have developed something of an obsession with Porsche 911s, but I know either (or possibly both) leave some of you stone cold.
One thing we can agree on is there's no such thing as the perfect car. Nor will there ever be. Which is weird when you consider the entire automotive industry is geared towards achieving this unachievable goal. It really is a thankless task. Especially if you're an engineer, for while design is very much a subjective discipline, by its very nature engineering can be measured. Trouble is, if you can't quantify perfection, in what direction do you keep chipping away to nudge closer and closer to it? We're well used to the whole 'less weight, more power, quicker lap times' mantra, but is this the answer? Possibly, possibly not. And that's the problem, for perversely the 'better' cars get, the more we long for the things that have been mitigated, eradicated or replaced by a new and empirically improved set of attributes.
> Ferrari 488 Pista review – can Ferrari's track-focused 488 live up to its illustrious forebears?
The aforementioned 911 is perhaps the best example of how making flawed things better is an obsession unique to the industry. Not to mention a lesson in how the process of improving and intensifying some things inevitably dilutes qualities that are held sacred. Don't get me wrong, I'm not about to rubbish half a century of engineering endeavour. Especially as in recent years Porsche has shown itself capable of doing what few others would and take what conventional thinking would suggest are retrograde steps, such as offering a manual 'box GT3.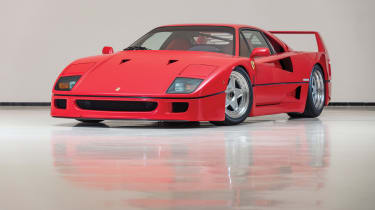 Sticking with the 911 theme, I'd also suggest a greater part of the latest GT3 RS's magic is rooted in the decision to make its suspension unapologetically firm and not filtering its steering feel so finely. It's not as compliant and less of an everyday-capable car as a result, but it's sensational for those who crave an unusual level of focus and aggression. Of course, the engineers' hard-won gains in engine performance and chassis balance are welcome, but it's the pursuit of this divisive damping set-up that appeals to me most.
But for me no car expresses the Perfection Paradox more eloquently than the Ferrari F40: simultaneously one of the most flawed and revered cars of all time. I've been fortunate to have driven a number of examples, none of which were remotely consistent with one another, but they all shared a basic brilliance that came from being a machine intended solely for going very quickly and employing race car thinking and technology.
This, of course, is what makes the F40 so bloody wonderful. And why so many were crashed. Even now, 30 years since it first blew us away, an irresponsible half-hour in one of these crazed contraptions on a challenging road is more than enough to have your sweat and adrenal glands crying for mercy. The demands it places on you to keep it on the boil and out of the hedgerow would never be sanctioned or accepted today, which is precisely why its legend grows. Lag you can measure with an egg timer followed by a big spike of boost, plus white-knuckle bump steer and barely adequate brakes are all matched by a driving position that basically rests your forehead against the windscreen header rail and a derisory nod to build quality that sees green adhesive smeared round the chassis like a half-arsed DIY attempt at curing a leaking shower cubicle. Even the thin paintwork taunts you with the visible composite weave beneath: a finish now seen as a mark of originality and badge of honour for prioritising low weight over deep shine.
Ironic, then, that Ferrari's 488 Pista appears to have fallen into the trap of chasing perfection to the detriment of the overall experience. Zero turbo lag, perfectly managed boost, tireless brakes and dazzling electrickery makes it a remarkable technical achievement and an extraordinarily fast car on road or track. It trumps the F40 in every measurable area, and yet its character is one-dimensional and its delivery less nuanced, even than the 458 Speciale it replaced. Quite how I can feel this way about a twin-turbocharged, 710bhp, 211mph Ferrari is perplexing.
The last thing our world needs is faster, grippier and more exploitable supercars. What we do need is their makers to have the courage and imagination to look beyond ironing-out every last dynamic wrinkle or steamrollering spiky power curves, and acknowledge what some of us have felt for years: much like people you meet in life, the most memorable, engaging and enduringly intriguing cars are the ones defined by their quirks and imperfections.