'It's time everyone woke up to the fact that the new Land Rover Defender needs to change'
The market for this car isn't a mythical throng of utility workers and cattle herders, it's suburban families who dream of G-wagens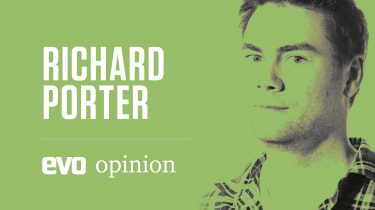 Do you remember the Bank Holiday Bond-a-thon episode of I'm Alan Partridge where the lead character listens with horror as his guests misremember 007's adventures and eventually cries in anguish, 'STOP GETTING BOND WRONG'? Well that's how I feel about the new Land Rover Defender.
You probably know there's a new Defender coming. It's been a while because the original was extinguished by regulations while Land Rover was too busy engineering other models to make a new one, and had nowhere to build it anyway. That's all taken care of now, and later this year we'll see a new model. A few months ago you might have spotted a leaked picture of what's claimed to be the dashboard. You might have also noticed a hubbub of reaction to it, much of it so misguided that I wanted to walk outside to my old-style Defender and slam my head in the tailgate.
> Land Rover Defender Works – celebrating 70 years of the iconic model
When the new car finally appears I think a lot of people are going to be disappointed, because right now they're doing the car equivalent of getting Bond wrong. 'I hope the new Defender is true to its roots,' they say, but what does that mean? Central steering wheel? Only one colour? Flappy, half-height doors?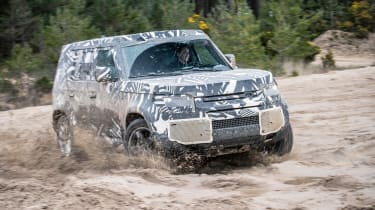 I think what they're really suggesting is that it should be a supreme off-roader like the old one, but that's not entirely accurate because in its twilight years the original Defender wasn't even the best off-roader in the Land Rover range. It was good, but it hadn't got any chops that couldn't be matched by an air-sprung, traction-controlled Range Rover.
In fact, Solihull people would quietly admit, the surprise off-road star in recent years was the old Range Rover Sport which, having a short wheelbase and modern chassis systems, just needed chunky tyres to show a Defender 90 the way home. In the current range, even the Discovery with its big overhangs and arse like Anne Robinson's smile is remarkably competent off-road, so you can bet the new Defender will be just fine if you need to drive it up a landslide.
But I don't think this is all that's meant by 'true to its roots'. I think it also suggests a kind of simplicity, which is why people who like getting Bond wrong always seem to use the phrase 'hose-out interior'. What madness is this? I wouldn't hose out the interior of my old Defender, because it's got cloth seats and a stereo. When was the last time anyone hosed out the interior of a car? Have you ever sat in a car that's been in water? It stinks and then fogs up like a bastard so you crash into the river from which you just escaped. I'm sure the new Defender will be quite rugged and full of artful touches that make it seem outdoorsy, but it's not going to be bog-basic because that's not the market it'll aim at. And this is where people really are getting Bond wrong.
'Oh no,' they wail, 'it's going to be a "lifestyle" off-roader.' Well, yes. 'But,' they cry, 'it should be for proper Defender drivers like the army and farmers.' Now come on people, pay a-frigging-ttention here. The army only bought Defenders because they had to, and now they've decided they don't like bullets coming into the cabin they're relieved to be ordering more bespoke machines, just as Land Rover is relieved not to be dealing with the arse ache of government tendering processes. As for farmers, they switched to Mitsubishis and Toyotas years ago because they're more dependable and more affordable.
You can have a Hilux for 20 grand, ex-VAT. The new Defender will not cost that. 'Well it should,' splutter Bond-wrongers. Yes, yes, yes, but it can't. The cheapest model in the current Land Rover range is the Discovery Sport, which starts at a little over £30,000. The new Defender, which will be bigger and built on a fancy platform meant for Range Rovers, can't undercut that. And why should it when the market for this new car is not a mythical throng of utility workers and cattle herders but, whether you like it or not, suburban families who currently have Discovery 4s and dream of Mercedes G-wagens?
After all, they're the sort of people who have 45 grand to spend or, more likely, can run to the chunky monthlies on a PCP scheme. This is how Land Rover will survive in these tricky times, by making an expensive car that sells to well-heeled people for more than it costs to make, not by delivering on some deluded 1950s yeomanry fantasy for PC-bound pundits who aren't going to buy one anyway.
I know nothing about the actual spec of the new Defender, but I'm going to say with confidence, it won't be cheap, it won't be basic and it won't like it at all if you turn a hose on the interior. If you're holding out for any of that you're ignoring what will make it sell and what will keep the company making it alive.
So please, come on, for the love of God, stop getting Bond wrong.