Porsche Motorsport shifts focus during coronavirus lull
Driver fitness, esports and road car programmes all take priority while the world remains in lockdown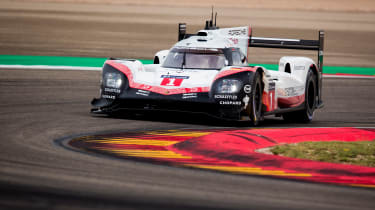 Porsche director of factory motorsport Pascal Zurlinden has described the industry as being 'just a passenger' while all motorsport activities are halted amid the coronavirus crisis.
Speaking in a conference call on Monday morning, Zurlinden explained that while Porsche is in constant contact with the FIA, race organisers and circuits, it ultimately faces the same limitations as everyone else and is reliant on government decisions regarding the extent of the lockdown.
'At the moment we're only three or four weeks into the crisis' said Zurlinden, 'but it's difficult to see what will happen even in the near future. Nobody can say how long this will last - we're all passengers.'
> New Porsche 911 Turbo gains Lightweight and Sport packages 
He confirmed though that activity hasn't stopped completely, even though Porsche's Weissach facility is in very limited use and staff are working from home. With motorsport activities curtailed, Porsche Motorsport has instead focused its resources on the firm's road cars, such as the upcoming 992 GT3, where such development is still possible.
Drivers too have shifted their focus. That includes not just driver fitness, keeping racers prepared should restrictions lift mid-season and the same hectic schedule resume, but also with Porsche's growing focus on esports, including hosting the virtual Supercup.
'The Supercup was a last-minute call' explains Zurlinden. 'We already have an esports tournament, but we decided to use this for the Supercup too. Every driver is taking part - they still have a platform for sponsors.'
In addition, Porsche is continuing to support its iRacing Cup, with dedicated esports drivers rather than the professional racing drivers, but it hasn't escaped Porsche's attention that some esports drivers are particularly talented, and is observing some closely - perhaps with the opportunity to grant them a real drive when the timing is right.
> 800bhp Gemballa Avalanche 4x4 takes Porsche 911 Turbo off-road
If there's one area that may particularly hurt Porsche though, it's in Formula E. As a new team, Porsche Motorsport was hoping to use the 2019-2020 season as a development year before a more serious attack in 2020-2021, but now Zurlinden admits Porsche may have to use a second season to get into the swing of things and learn data at some of the events cancelled by the spread of Covid-19.
The lockdowns have also slowed Porsche's latest GT programme with the latest iteration of the RSR-19, making the season opener in September (if it goes ahead) a little trickier - though other teams will no doubt be in a similar position.
Problems with suppliers are another potential issue, though Zurlinden says this is simply another area in which Porsche has to wait and see. The next few months will no doubt be difficult, but Zurlinden is confident things will return to normal. 'Motorsport is part of the DNA of Porsche and always will be.'