The controversial move to do away with the Cayman's sublime, naturally aspirated flat-six may be enough to make enthusiasts wince, but it's been justified by the car's on-paper performance.
Even in its least powerful form, the Cayman can cover the 0-62mph measure in 5.3sec, with the more focused but no more potent Cayman T recording the same time. Likewise, both have a top speed of 170mph, which isn't bad for Porsche's entry-level sports car. Opt for the Sport Chrono package, and the acceleration times drop by another four-tenths, while the PDK versions, which are Sport Chrono only, cut that down further to 4.7sec.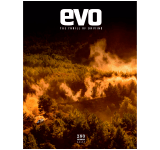 Subscribe to evo magazine
Subscribe today to have every issue of evo delivered straight to you. You'll SAVE 39% on the shop price, and get evo for its original cover price for a whole year!
With a sixth more power, the Cayman S goes quicker still. In manual form it reaches 62mph in 4.9sec, but this is cut to 4.4sec with Sport Chrono and a further two-tenths with PDK. Top speed, meanwhile, rises to 177mph.
This is where the four-cylinder engine range ends, but it's where unease over the four-cylinder layout begins. Objectively, there's not a great deal to fault with the flat-fours. Performance has risen, low-down torque has improved (even if the engines are less linear than the old sixes), and when they're spinning away at high revs, throttle response is still pretty good. They work well with both gearbox options, too, the manual in particular remaining a joy to slot around the gate.
It's just a crying shame that they sound the way they do. If either engine had the offbeat growl of an old Impreza it might be easier to forgive, but instead both units have a harsh, uncultured tone not unlike that of an old Beetle. And if you specify the sports exhaust, an old Beetle with a blowing silencer.
Better, instead, to move on to the six-cylinder models in the range. We're yet to try the 718 Cayman GTS with its new four-litre six, but if its engine is anything like the unit in the 718 Cayman GT4 (and it should be – it's basically the same engine) then we're in for a treat.
Yawning gear ratios – second will get you to 85mph – take the edge off the flat-six's performance and limit how much of the wonderful sound the engine produces at high revs can be enjoyed on the road. It can also make the Cayman feel slightly slovenly out of tight corners unless you're prepared to change down to first a lot more often than you would in other cars.
But good lord is the experience worth it when you do. It's a reminder of why we were so displeased about the move to four cylinders in the first place; the six-pot is smooth, cultured and sharp as a Sabatier-sliced lemon, its power building throughout the rev range to a crescendo by the 8000rpm limiter.
While the gears are long, the gearbox itself is a joy – matched, as always, to a perfectly weighted clutch. Rev-matching on downshifts feels as natural as walking, but if you prefer, you can let the car do that with a switch on the centre console, for perfect heel-and-toe shifts every time. And flat out, on a circuit, naturally, it's hard to imagine wanting any more performance.