Super rare 964 Porsche 911 Carrera RS Touring up for sale
The new GT3 Touring is not the first time we have seen that moniker on a 911, and this one is headed for the auction block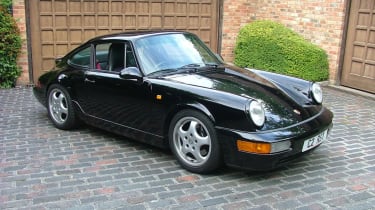 A very special Porsche 911 is about to go under the hammer at the next Silverstone Auctions this October. We all know about the stripped-out 964 Carrera RS, but that car was also available in a lesser known 'Touring' spec along the same lines as the recently announced GT3 Touring that starred at the 2017 Frankfurt Motor Show.
Sharing the mildly upgraded powertrain of the Carrera RS, the Carrera RS Touring put back in some of the luxuries stripped from the standard car, but maintained the chassis upgrades that made the Carrera RS such a hit.
> Click here for all you need to know about the Porsche 911 GT3 Touring 
Featuring lower, stiffer springs and dampers, the 964's sometimes spikey handling reputation was stabilised, up to a point, by better controlling the rear-mounted engine's weight transfer. More substantial suspension bushes, engine mounts and 'unibal' top strut mounts also contributed to this extra control.
Porsche fitted larger brakes from the 911 Turbo and reduced unsprung weight by fitting new magnesium wheels – the same as you might see on a period Audi RS2. Standard RS models then had most of the sound deadening, rustproofing and interior trim removed.
The Touring model, designed to be less of a compromise for everyday driving, refitted these elements, but such was the popularity of the lightweight RS, only 11 RHD Touring models were built, with only 6 reaching the UK.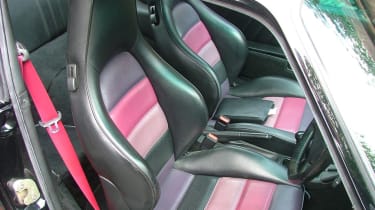 The model on offer through Silverstone auctions is a particularly subtle example. Finished in black, only eagle-eyed enthusiasts will pick up on the rarity of this particular RS. Inside, Porsche finished the seats in a tri-colour palette of pink, fuschia and mauve, set off with pink seatbelts, it was a not-so-subtle nod to the 'Star Ruby' paint option that was made available exclusively on the RS. 
The Carrera RS has nearly made the philosophical step of becoming a true Porsche icon, but if you are after real rarity, the RS Touring could well be the more discerning option. The estimated price is between £185-200k, this Carrera RS Touring will go under the hammer on October 20.