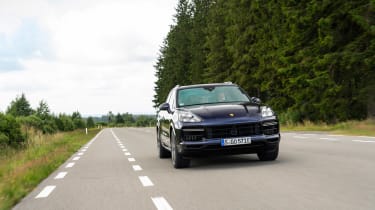 1/18
Porsche has revealed a new range-topping variant of its incredibly popular SUV. The Cayenne Turbo S E-Hybrid combines both the 4-litre twin-turbocharged V8 engine from the current Turbo model with a small electric motor and battery pack to create the most powerful Cayenne yet.
This new variant will no doubt appeal to the relentless appetite of high-performance SUV buyers who across the board seem to be flocking to what might otherwise seem a rather contradictory vehicle type.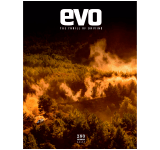 Subscribe to evo magazine
Subscribe today to have every issue of evo delivered straight to you. You'll SAVE 39% on the shop price, and get evo for its original cover price for a whole year!
The result of this is a 671bhp, 2490kg, £123,349 SUV that costs double that of a standard Cayenne, not to mention £20k more than a non-hybrid Turbo. With such a vast price discrepancy, the new Turbo S E-Hybrid will need to offer a significant jump in capability to justify it.
Engine, performance and 0-60 time 
Putting it simply, the Cayenne Turbo S E-Hybrid features the same hybridised petrol V8 powertrain as in the Porsche Panamera Turbo S E-Hybrid, creating the most powerful Cayenne yet. That V8 engine is a familiar 4-litre twin-turbocharged unit engineered by Porsche and shared throughout the upper levels of the Volkswagen Group. Here, peak power is identical to that of the standard Cayenne Turbo producing 542bhp, with a plateau of 568lb ft of torque between 2100 and 4500rpm.
Assisting the V8 is a 135bhp permanent-field synchronous electric motor powered from a 14.1kWh lithium-ion battery pack. The motor's peak torque is an impressive-sounding 295lb ft between 100 and 2300rpm (that's the engine's revolutions per minute, remember), but as is the usual way, it can't simply be added to the V8's figures as those peaks happen at different points in the rev range. The peak 'system total' therefore is 671bhp between 5750 and 6000rpm, with maximum torque rated at 664lb ft in a broad sweep between 1500 and 5000rpm. The electric motor is sandwiched between the engine and eight-speed Tiptronic S transmission that, unlike in the Panamera, utilises a torque converter rather than dual clutches. Porsche says this is for the sake of more robust towing and improved off-road ability, but it's also a packaging complication as the Porsche Cayenne is built on the Volkswagen Group's MLB-evo platform, which doesn't yet fit the more efficient and snappier PDK.
How does all of this feel? Excessive. The Cayenne will fire to 62mph in 3.8sec, and do so in a way that feels impressive, but ultimately underwhelming because of the sheer physics involved. Like many cars of this type, the electric motor does its best to fill in the natural gap at the base of the V8's torque curve, but whereas a Panamera Turbo S E-Hybrid feels electrically augmented to an almost supernatural level, the Cayenne's electric motor just doesn't have the grunt to be felt with much impression in this 2.5-ton package. The outright numbers are still impressive though, and the Cayenne will go on to reach 120mph in just 8.4sec, before topping out at 183mph. On our German test routes, we were able to reach over 170mph at points of derestricted autobahn, where the Cayenne did not feel as comfortable as one would hope considering the ease with which it got there.
Technical highlights
Of course, being the flagship Cayenne Porsche has thrown its entire catalogue of chassis control software and hardware at the Turbo S E-Hybrid, starting with standard ten-piston carbon-ceramic brakes and 440mm front discs, a set-up the 991.2 Porsche 911 GT3 RS doesn't benefit from, pointing towards the heavy importance (pun intended) Porsche places on keeping all that mass under control.
Porsche's 4D Chassis Control is also standard. It's essentially the same 48V active anti-roll system found in the Bentley Bentayga W12 and Audi SQ7, that couples and decouples both front and rear anti-roll bars on demand to reduce body lean in corners without affecting ride quality, while also improving its off-road ability. Three-chamber active air suspension with adaptive dampers and Porsche torque vectoring splitting power not only front to rear, but also left to right are also both standard, but you'll need to pay extra for rear-wheel steering. 
The Cayenne Turbo S E-Hybrid is an otherwise standard-fare, if well specced Cayenne, with the same wonderfully constructed cabin, excellent driving position (for an SUV), and slick, if not groundbreaking infotainment system that still works with a level of clarity and cleverness most rivals still aspire to.
What's it like to drive?
Put that 671bhp power figure out of your mind for one moment, as on the move the Turbo S E-Hybrid feels just like any other Cayenne – albeit one with an extra 500kg to haul around over a Cayenne S. The stiff, somewhat heavy touchpoints that define Porsches do little but exaggerate the 2490kg (without fuel or a driver) weight figure. Bumble around at low speeds and the sheer inertia of moving 2.5-tons is evident, something that's more acute than in a Panamera of the same derivative due to the Cayenne's higher centre of gravity and 200kg weight gain.
It feels immensely powerful of course, and a highly satisfying burble of the V8 is audible, but it just doesn't feel anything like as fast as the numbers would suggest. Switch across to Sport or Sport Plus mode and the Cayenne does wake up a bit, routing more of its electrical energy into the drivetrain system rather than maintaining charge in the batteries, but so thirsty is it when selected, you can literally see the fuel gauge dropping rapidly.
The autobahn might seem its natural habitat, yet high speeds essentially cancel out the electric motor's presence – it's just not powerful enough to fill in that torque gap before the engine fills its lungs. Keep revs high and it's really, really fast, but getting there takes patience as the car's relevant systems take time to sync up.
The kerb weight's biggest effect is felt in corners though, as even on 285-section 22-inch front tyres, the Cayenne's propensity to wash wide at even moderate cornering speeds is impossible to overlook, especially compared to lesser-powered Cayennes that seem to almost relish being thrown into bends. There is no room here for adjustability or playing with the weight distribution, as the Cayenne is just too big, too heavy and too blunt an instrument to ever be considered an interactive driving tool. Admittedly, few SUVs could really be considered 'driver's cars', but a standard Cayenne is still a far better on-road compromise. Best keep it in a straight line and treat it as an American muscle car.
If this Cayenne does have a party piece it would likely be the 20 real-world miles of EV range. This is a desirable element when driving in town, but consider for a moment how fast a 135bhp, 2.5-ton SUV would be and you've probably nailed what a Cayenne Turbo S E-Hybrid is like to drive at its most relevant. The powertrain's transition between electric and petrol modes isn't quite as imperceptible as in the lesser Cayenne E-Hybrid, but with the V8's more vivid presence it does form a reasonable explanation. Battery regeneration is notable more for its negative effect on brake pedal feel than its ability to top up the battery pack.
This Cayenne's desire to be everything all at once is ultimately what limits its execution. A regular Cayenne is a more rounded and accomplished proposition and the better Porsche SUV.
Price and rivals
Consider for a moment what type of car one can buy for £123,349. From within, Porsche's non-hybrid Panamera Turbo Sport Turismo might lack the EV range or usability of the Cayenne, but underneath the skin its far superior Bentley Continental GT-derived platform immeasurably improves on the Cayenne's handling, ride and outright on-road capability. An equivalent Panamera Turbo S E-Hybrid starts at £140,132, so it's a fair jump on the Cayenne.
A high-specification Range Rover TDV8 Autobiography does the utility and off-road capability side of things better than the Cayenne Turbo S E-Hybrid, although Range Rover's P400e plug-in hybrid variant, which costs essentially the same, struggles to match the Porsche's combination of refinement and performance due to its grumbly four-cylinder engine. The Cayenne Turbo S E-Hybrid's foibles are hard to overlook in the best of circumstances, but the entry price to this ride is so high that it's just impossible to disregard them.