Porsche Taycan given performance boost via software update
The Porsche Taycan to receive free over-the-air update boosting performance from its electric powertrain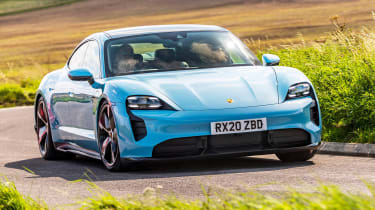 Porsche has announced a software update for the all-electric Taycan saloon. Said to improve both performance and useability, the update is available free of charge for any Taycan purchased before September 2020 and can be installed at a local Porsche Centre.
While its hardware remains untouched, the Taycan's dynamics have been improved by optimising the chassis control, and reducing wheel slip for improved acceleration. The range-topping Turbo S now covers the 0-124mph sprint in 9.6sec, two tenths sooner than previously. Variants equipped with air suspension also now receive Smartlift functionality, automatically raising ride height at recurring locations such as speed humps or driveways.
> New Porsche Cayman to be electric? The 718's next steps
The Taycan's Charging Planner functions are also improved, allowing drivers to receive a notification when vehicle charge is at the level required to reach a destination. The battery saving charging function also aims to improve battery longevity and efficiency, capping charge rate for lower temperatures.
The infotainment system has also been given a refresh for 2021, with maps now displaying detailed traffic information, Apple Podcasts now available natively and wireless Apple CarPlay.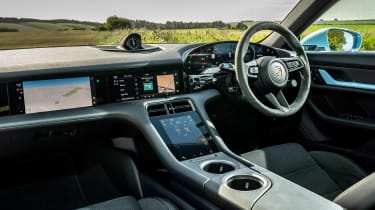 Over-the-air performance upgrades are nothing new for all electric cars, with the likes of Tesla and Jaguar offering also similar updates for its electric models. Last year, the Tesla Model S received a free update, adding 'Cheetah mode' which caused the front axle air suspension to hunker down to adjust the car's weight balance during full-bore launches.
Unlike similar updates from other manufacturers, which can be performed from home, the update will need to be completed at a Porsche Centre. With a number of control units receiving 'significant software optimisation', Porsche says some drive components have to be recalibrated to the software update, including the two-speed transmission.
Porsche is offering the update free of charge for anyone with a Taycan purchased before September 2020.