Renault Symbioz teased - New all-electric autonomous concept car
The French marque's latest concept will focus on integrating with the occupant's digital devices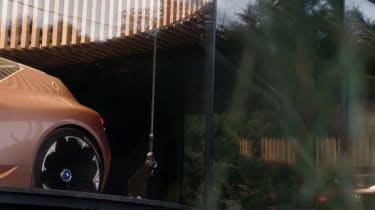 Renault will reveal a new concept car at this year's Frankfurt motor show. Called the Symbioz, the concept will not only exhibit a visual style that Renault will use for its future cars, it also fits what the marque thinks the future of personal transport will be in 2030.
> Read about Renault's last concept car, the Zoe E-sport
The only idea of what Renault's new car will look like is the short video of it on a turntable rotating behind some glass. Sadly, the car has been artfully cropped so that only a portion of its rear flank and three-quarters of the back wheel is visible. A reflection of the car in the glass shows a light-up Renault badge.
From what we can see is the car's short back-end and minimal overhang that makes it look like a coupé hatchback, a similar shape to the previous Megane coupe or VW Scrirroco.
> Read our review of the outgoing Renault Sport Megane
The glass on the side window seems to stretch and curve onto the roof to create a jet fighter-style cockpit. How you enter the car, whether the entire canopy rises to allow access or if there are gullwing or just ordinary doors, is anyone's guess.
The concept car's name hints as to what Renault thinks will be important to drivers in the future. Symbioz is derived from the Ancient Greek word for living together: sumbiōsis. The car has been designed to integrate with the driver and passenger's other digital devices: their smart phones, interactive watches and even their smart homes.
> Find out what else to expect from this year's Frankfurt motor show
As with Renault's recent cars, both concept and production ones, the 'Z' in the Symbioz's name discloses that it will be a fully electric vehicle.
Renault says that the Symbioz will also interact with its environment and the road network to provide an autonomous driving experience, too.