When other manufacturers do daft things with hatchbacks they call them concept cars and mothball them after a couple of motor shows and press releases. When Renault caricatures a Clio's bodywork and puts a V6 where the rear seats should be, it goes into production. The fact that the first Clio V6 was one of the scariest-handling cars of all time made it all the more admirable that Renault went on to produce a second generation. And in the 255 it had an instant hit. It won our cover-story group test back in July 2003 (evo 057), David Vivian concluding, 'it feels as special and charismatic as any car we can think of under £40K'. The big-silled Clio went on to prove that £40K was no barrier either, as six months later it took third place in eCoty, beating a certain Italian into fourth in the process…
Reach under the panel for the catch, swing the door open and it feels like you've found a wardrobe in Narnia that leads back to the drab real world – the exterior's exuberance isn't quite matched by the dashboard inside. Even with this car's optional Recaros you still sit high and the steering wheel seems to rest on your lap. The metal ball on top of the raised gearlever is icy-cold when I first put my palm on it, but the shift is beautifully precise and tight.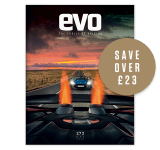 Subscribe to evo magazine
Subscribe today to have every issue of evo delivered straight to you. You'll SAVE 39% on the shop price, and get evo for its original cover price for a whole year!
In the first few miles, however, the Clio's performance doesn't feel like it's quite going to live up to the kerbside posturing; the relatively slow-revving V6 only has 221lb ft at 4650rpm and progress is enjoyable rather than exciting. But as the rev-counter passes 5000rpm the vocals get into their stride and the pace starts swelling. Then as you hit 6000rpm the engine kicks again and you hang on until the 7200rpm red line, by which time the engine's presence feels almost too huge to be contained within the confines of the car.
It was largely the Clio's likeness to another exotic – an example of which can be found in the more expensive group of this test – that made driving it so endearing. Mass behind you, light steering, a crescendoing howl from six cylinders… close your eyes and you could be in a 911. It's still shocking how disconnected the steering initially feels. It's like driving a normal car with a very heavy caravan weighing down the tow bar behind you and pointing the bonnet skywards. Corners are approached with respect; you nudge the nose in, uncertain if the front tyres are finding any grip, feeding it and feeling it round the bend until you're sure you can get back on the power and exercise all that traction. It's not something you're going to master in an afternoon and the Clio is all the more beguiling and special for it.
So, a mini 911 that'll turn more heads than a 911 for just £15K. There weren't really any options (apart from the Recaros), few seem to have been tampered with, and although some seem to think that Liquid Yellow should be prized above all others, I don't think colour really matters. You could obviously go down the mk1 route for about half the money, but if you're planning on driving it, buy a mk2.
Unlike the Makinen, the Clio hasn't really needed the ebbing of time and the production of newer models to emerge as an icon; it was clear from the outset just how special this car was, as a story Peter Dron told makes clear: when the V6 was in development, VW heard whispers that Renault was making a 3-litre Clio. So, not to be outdone, the Germans went flat-out to produce a Lupo that would also consume just 3 litres of fuel per 100km…
The Clio V6 turned out to be more impractical than most supercars and have a turning circle that an F1 driver would be shocked by, but a car so individual and gloriously silly is always going to be treasured by people like us. It's a wonder it's depreciated at all.
What to look forNot much goes wrong with Clio V6 255s. Many will have had front-end resprays because the paint is quite soft and it's easy to scuff the lower edge of the apron on kerbs, but make sure the front has not been repainted following accident damage – body panels are so expensive that crashed cars can be Category D write-offs for apparently minor damage. Tyre wear can be an indicator of something amiss, chassis-wise – the rear tyres should wear evenly across the tread while the fronts tend to eat their inner edges due to the factory camber settings.
Specifications
| | |
| --- | --- |
| Layout  | Mid engine, rear-wheel drive     |
| Engine | V6, 2946cc    |
| Max power  | 255bhp @ 7150rpm   |
| Max torque  | 221lb ft @ 4650rpm    |
| Weight  | 1400kg    |
| Power-to-weight  | 182bhp/ton    |
| 0-62mph  | 5.9sec (claimed)    |
| Top speed  | 153mph (claimed) |
| Price new    | £26,995 |
| Price now    | £15,000 |
| On sale    | 2003-2005 |
| Number built    | 1018 (354 UK sales) |