What is it?
Like the 197 before it, the Clio Renaultsport 200 Auto (as it's now officially called) has evolved. Or rather it has been joined by a sharper version to address its dynamic shortcomings.
The Clio Renaultsport 220 Trophy has arrived, and if history repeats itself it may just be the car to put our French friends back at the top of the heap.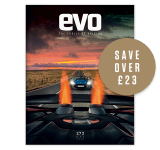 Subscribe to evo magazine
Subscribe today to have every issue of evo delivered straight to you. You'll SAVE 39% on the shop price, and get evo for its original cover price for a whole year!
Engine, transmission and 0-60mph time
The Clio 220's 1618cc, four-cylinder turbocharged engine is similar to that of the Nissan Juke Nismo RS, and like the Juke the Renault has enjoyed a recent boost in power. At 217bhp it develops 20bhp more than before (and 2bhp more than the Juke), at 6050rpm – a scant 50rpm higher than the power peak of the Clio 200.
Torque has improved too, an overboost function in fourth and fifth gears delivering up to 206lb ft from 2000rpm, from 177lb ft at 1750rpm. The upshot is a 0-62mph time of 6.6 seconds – a tenth quicker than before – and 3mph added to the top speed, now 146mph.
That bone of contention – the gearbox – remains a six-speed, dual-clutch paddleshift affair, but Renault has revised it to deliver 50 per cent quicker shifts in its most exuberant Race mode.
Technical highlights
The Clio's subtly aggressive stance is courtesy of a 20mm drop in ride height at the front and 10mm at the rear. The dampers have also be retuned, the rear springs are 40 per cent stiffer than on a standard Clio 200, and around 25 per cent stiffer than on Cup chassis-equipped 200s. There's also a ten per cent faster steering rack and aggressive Michelin Pilot Super Sport tyres.
Drivers can select different modes, which have resulting functions for the traction control, steering, gearbox speed and throttle response. Race has the quickest shifts, but also fully disengages the traction and stability control. Surely there will be times when you want the angriest gearshift but the reassurance of a watchful electronic assistant?
What's it like to drive?
Those beefed-up spring rates sound a little extreme but the Clio remains relatively supple. The quicker steering does create an impression of latent agility but there's almost zero feedback through the wheel itself.
The gearbox feels so much better than before, certainly in Race mode. Don't expect the nape-prickling speed and intensity of something like a GT3's PDK, but the way it whips through upshifts finally starts to live up to the promise of a cutting-edge hot hatch that puts technology right at its centre, Ferrari-style.
You need to be right on it to feel the benefit, though. The engine has some attitude and it gets better the harder you work it, but it's a shame that 5500rpm is required before it shakes off a gloopy character and sings.
Similarly the chassis can provide moments of magic but they're fleeting and require commitment that's not compatible with road driving 90 per cent of the time. In that rare zone where the Trophy is fully dialled-in, there's a level of body control and agility that's a match for a Ford Fiesta ST, with greater grip and an appealing aggression.
Those moments are pretty intoxicating, and they have the stamp of Renaultsport all over them. However, they are rare and still mostly hidden by a whole heap of frustrations. The gearbox is now pretty convincing but because it's hooked up to a mostly boring engine it will never be a source of real pleasure. So the paddleshift doesn't light up the experience, even in this vastly improved form, but instead continues to remove you from the action.
Rivals
We've tested the Clio head-to-head with its greatest rival – the Ford Fiesta ST – in the October 2015 issue of evo, number 213. You'll have to read the test to find out how it fares, but suffice to say the Fiesta remains one of our favourite hot hatchbacks.
Another strong challenger to the Fiesta, and therefore the Renault, is the Peugeot 208 GTi by Peugeot Sport. Long-winded name, but Peugeot Sport's tweaks to the regular GTI are as effective as Renaultsport's modifications to the Clio.
Price
Still on sale, the regular Clio Renaultsport 200 Auto starts from £19,130, in a similar ballpark to that of its Ford and Peugeot rivals. To get the higher-output Trophy you'll need to spend £21,780.
That's a fair chunk more than the best-equipped Ford Fiesta ST-3 (which starts at £19,545), though the Renault's higher-quality interior and greater equipment roster goes some way to justifying the price.