Skoda Kodiaq vRS coming next year - the first budget performance SUV?
Rumours continue to fly around the upcoming Kodiaq vRS, Skoda's niche-busting sports family SUV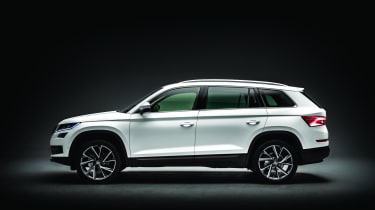 Information continues to swirl around about the next steps for Skoda's vRS brand, and after confirming the development of a Kodiaq vRS in an exclusive interview with evo earlier this year, rumours over its possible drivetrain and on-sale date continue to firm up as we get closer to the reveal date.
Despite the downtrodden image of diesel within the VW group, our interview with R&D boss Christian Strube revealed that the Czech brand intends on utilising a 2-litre four-cylinder twin-turbo diesel engine in the vRS Kodiaq. Likely to be similar to the 237bhp BiTDI engine currently available in VW products like the Tiguan and Passat, this new diesel engine will help improve performance without a dramatic rise in fuel consumption and CO2 emissions compared to more sensible Kodiaq variants. 
> Click here for our review of the Skoda Octavia vRS
Due to Skoda's propensity to offer both petrol and diesel vRS engine options, we wouldn't discount a petrol variant also being available, possibly utilising the 276bhp 2-litre turbocharged four-cylinder that is currently available in the Superb.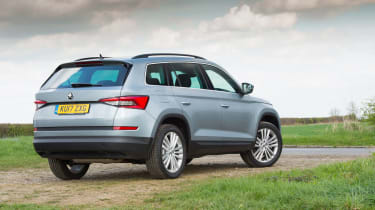 Like other vRS variants, we expect a variety of styling tweaks including new wheels, more aggressive bumpers and dark finished details to help sharpen the Kodiaq's claws.
The Kodiaq's chassis should also undergo some upgrades including stiffened suspension, retuned steering and a more responsive transmission calibration. Like most VW-group performance models, all these components will likely be configurable via Skoda's Driving Mode Selection in the central touch screen.
> Click here for our review of the VW Passat GTE
As previously discussed in January, plans for a Superb vRS have been put on hold, according to Skoda's Christian Strube.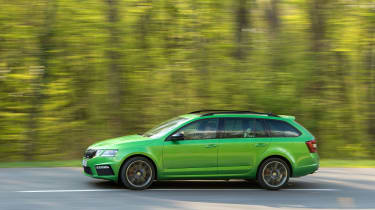 Strube also explained that a business case doesn't currently exist for vRS models smaller than the Octavia – so vRS versions of the Fabia or Citigo are unlikely. That's despite Volkswagen's intention to offer an Up GTI – under the skin, the Up and Citigo are basically identical.
Larger vRS models are certainly on the table, though the future isn't looking so sure for a Superb vRS. While Strube is keen to introduce such a model, plans currently appear to be on hold.
vRS models may become harder to justify in future, however. Strube suggests that tightening CO2 regulations mean volume brands like Skoda may not be able to make a case for performance models that aren't also frugal. Strube would not confirm whether that would mean dropping petrol vRS versions in favour of diesels, or even hybrids.
Skoda's future plug-in plans will go some way to redressing the balance – a plug-in hybrid model is on the way in 2019 (likely the Superb) with a full battery-electric model after that.