Subaru Impreza WRX
The Subaru Impreza WRX Sports Wagon has been playing in the snow, and also been given a little Prodrive performance enhancing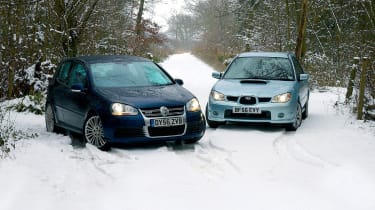 Unlike the '87 hurricane, we knew the snow was coming. I also knew I had to be at Gatwick Airport by stupid o'clock in the morning. Therefore the Subaru and I positioned ourselves at my parents' house in Surrey the night before. Four hours' sleep went, 5am came, the alarm went off and outside the world was white and turning whiter by the second. The back-road plan swung into action.
It was snowing so hard up in the Surrey hills that the A25 had become a single white river snaking through the woods. Unsurprisingly, every other soul in the south of England was snuggled beneath a duvet, heeding the 'unless absolutely necessary' advice. But with the heater on full it was much more fun out in the frozen darkness.
Braking distances required a bit of forethought, and it was a minor miracle that I only once sailed past a turning with the ABS pumping furiously. Unfortunately this small error meant I had to drive all the way up a hill.
This I did mostly sideways, not through any pseudo Solberg heroics, but just because that's what the Subaru and its 50:50 four-wheel drive wanted to do, and I didn't feel in a position to disagree. Ironically, I was chased all the way by the headlights of a gritter (no, there wasn't any room to let it pass). The flight was, of course, cancelled.
The recently fitted Prodrive Performance Pack wasn't really necessary in the snow, but the rest of the time it's been fantastic. I promised details last month so here they are: power is increased by 39bhp to 266bhp at 5700rpm, torque is increased by 74lb ft to an RS4-worrying 310lb ft at 3000rpm, 0-60mph is down from 5.9sec to 5.3, and, more impressively, the 50-70mph time in fifth gear is reduced from 6.6 to 4.7sec. This is all thanks to a recalibrated engine management system, a high-flow intercooler hose and new stainless steel sports exhaust silencers. The price? A very reasonable £1700 including VAT and fitting.
Apart from the very obvious performance gains, other little improvements include a less fluffy response to throttle inputs at low revs and a welcome return of some burble to the Impreza's exhaust note. All who've driven the PPP'd WRX have been impressed – surprised even – by the five-door's ability to cover ground in an entertaining fashion. Jethro commented that it felt less understeery than the previous generation car. Sub ed Ev enjoyed the way that in top gear (fifth) there's instant, walloping overtaking ability on tap all the time.
The only complaint is that it does look a bit… ugly. The solution is to get it in black – it goes with everything and disguises all manner of unfortunate design details. I've seen one and it looks great. All right, better.
Running Costs
| | |
| --- | --- |
| Date acquired | October 2006 |
| Total mileage | 9,672 |
| Costs this month | £1700 (Prodrive Performance Pack) |
| Mileage this month | 1,951 |
| MPG this month | 27.2mpg |