This is it – this is the end. After the best part of a quarter of a century, the fast Subaru saloon (it was also occasionally a hatchback and an estate) is finally being consigned to history. From a virtual unknown it grew into a bona fide global superstar with solid gold motorsport credentials, before events overtook it and it spent the last ten years of its life slowly slipping back into obscurity. When it was at its peak in the late nineties the Subaru, in its pre-WRX Impreza days, was a key part of evo's beginnings.
It was one of the cars that defined 'the thrill of driving' and delving into our archives reveals that in the early days of the magazine there wasn't a month that went by without a Subaru appearing in a test, a feature or in the pages of our Fast Fleet section. Yet when Subaru pulled the plug on its World Rally Championship operations in 2008, the Impreza and its WRX successors lost both their way and buyers. So now Subaru has decided to pull the plug and instead of launching a replacement it will 'allow the WRX STI's heritage to inform future developments'. Hmmmm....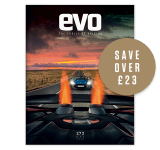 Subscribe to evo magazine
Subscribe today to have every issue of evo delivered straight to you. You'll SAVE 39% on the shop price, and get evo for its original cover price for a whole year!
Still, rather than go out with a whimper, the WRX is being treated to special send off with this Final Edition. So is this a fitting tribute to one of the best performance cars ever, or a timely reminder that the Subaru is something of a four-wheeled anachronism? Well, it's certainly not lost any of the brutal visuals that have marked out the latest generation of WRX. There are some larger 19-inch alloys finished in gunmetal grey, revised LED headlamps, a deeper front bumper and some 'Final Edition' badging for the front doors. Inside, the updates are rather less obvious, with just a revised 5.9-inch infotainment system mounted on top of the dash, lots of gloss black trim inserts and some subtly revised dials. 
Technical highlights
The Final Edition is based on the existing WRX STi, with most of that car's mechanicals being carried over unchanged. That means you get the now familiar turbocharged 2.5-litre flat-four that produces 296bhp and 300lb ft of torque, which is linked to Subaru's symmetrical four-wheel drive system via a six-speed manual gearbox. 
It's a similar story with the suspension, with a strut layout retained at the front and a double wishbone rear axle. The dampers are passive, but with mild revisions to compensate for the larger wheels.
However, there have been some tweaks to the transmission, with the centre differential (known as the Driver's Control Centre Differential, or DCCD) now under complete mechanical control. As before you can adjust the aggressiveness of the differential using the small rocker switch mounted on the transmission tunnel. The other major mechanical change is reserved for the brakes, which at the front get larger 340mm discs clamped by six-pot Brembo calipers finished in day-glo yellow.
> Mitsubishi Lancer Evolution X - review, history, prices and specs
Engine, transmission and 0-62mph time
Given that the engine and transmission have been left unchanged, it's no surprise to find the final edition is no faster than the standard STi. Still, that car is no slouch, with the sprint from standstill to 62mph taking just 5.2sec. That might sound sluggish in an era of Audi RS3 saloons that will smash the benchmark acceleration test in under four seconds, but the Subaru is still a mighty quick car, provided you're willing to work at it.
Unlike many of today's torque-rich turbo engines (VW's EA888 is a prime example), the Subaru's flat-four requires some effort to give its best. It's not exactly laggy in its delivery, but you have to work the 2.5-litre beyond 4000rpm to find its sweet spot. There's the familiar thrum at idle, which increases in volume and intensity as the revs rise, but the WRX's motor never finds its voice like the earlier 2-litre cars. Yet there's the same sense of lethargy at low to medium engine speeds, and it's only over the last 2000rpm or so that Subaru comes to life, at which point it takes off with real urgency. It's not sophisticated, but it adds the sort of character that marks the WRX out as something a bit different.
The same can be said of the permanently engaged symmetrical four-wheel drive, which delivers ferocious traction regardless of conditions. There's none of the ever-so subtle slip you get in a Haldex controlled system; the Subaru just puts all its power down, with the result that you get the impression that not a single horsepower is wasted. It's particularly impressive out of wet, leaf-strewn junctions, where the STi simply grips and goes.
> Subaru Viziv Performance Concept hints at new hot saloon
Also adding to the car's unique feel is the gearbox. It's not the last word in precision or slickness, but you can throw the wand-like lever around the gate with surprising speed. It feels robust, too, like it's been lifted straight out of a Group N rally car.
What's it like to drive?
There's still nothing quite like a Subaru when you're unpicking your favourite stretch of backroad. Even when going slowly it constantly reminds you that you're behind the wheel of something out of the ordinary. You can hear and feel the transmission doing its stuff, while the firm ride is just the right side of anti-social. Yes, it makes the WRX occasionally frustrating on the daily grind, but against the backdrop of VW Group products sharing the same engine, MQB architecture and transmission, this is something that should be celebrated.
Of course, some Subaru quirks remain, such as the steering, which retains the same light and slightly glassy feel off the straight ahead that keeps you one step removed from the action. Yet once you learn that the grip is there, you begin to trust the set-up and rely on its precision and natural weight of response. You also have to be more measured with the throttle, particularly in slippery conditions, because there's no sophisticated torque vectoring there to keep you seemingly magnetised to your line – get greedy with the throttle and the Subaru's four-wheel drive set-up will push the nose wide. The good news is that a little lift is all that's needed to get things back on track. Better still, an even bigger lift or a dab of the brakes will bring the WRX's tail into play – this is a four-wheel drive car that gives you options.
> The anatomy of a Group B rally car
However, the Subaru only really comes alive when you take it by the scruff of the neck and drive it with real conviction. It's lumpy and a bit truculent when mooching because it's not in its comfort zone – it wants to be thrashed as hard as you dare so that it can reveal its motorsport-inspired alter ego. Do this and the stiff damping and grumbly transmission make sense, because with some decent load working through them they allow the WRX to cover ground at astonishing speed and with real poise and control. Then there are the excellent Brembo brakes, which benefit from a firm pedal action and strong, fade-resistant retardation. Before long you're convinced that with the fitment of some harnesses, a roll-cage, some knobbly tyres and a sump guard the Subaru would be ready to do battle on the Wales Rally GB. There's the effervescent spirit of a competition car desperate to burst out of the STi – and that's not a claim that you can level at the hugely competent but ultimately clinical VW Group posse.
Price and rivals
The Subaru WRX STi Final Edition will set you back £33,995, which is a few hundred pounds more than a Ford Focus RS, but around £4,000 less than a similarly powerful Audi S3 Saloon. However, while it represents decent value there is a catch – Subaru is planning to bring just 150 examples to the UK. So, should you rush to your nearest dealer and open your wallet? Well, as an everyday tool the Subaru lags way behind the Audi and even has to give best to the Ford. It's not that there's anything particularly wrong with the WRX, but the cheap interior plastics, firm ride and ASBO looks mean it never becomes calming and unobtrusive in the same was as an S3. The payoff, though, is that when you what to make progress like you mean it, the WRX is transformed into an agile and rabidly quick cross-country weapon with the fast beating heart of red-blooded homologation special. It's often said that you don't know what you've got until it's gone, and I suspect the Subaru WRX STi will prove to be a case in point.