Subaru Impreza WRX
Henry heads to the West Circuit, but worries about how to get the 4WD Subaru Impreza WRX Sports Wagon going sideways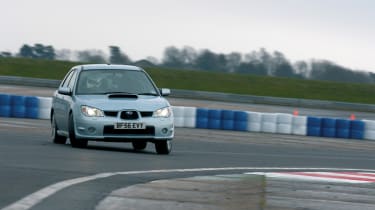 It had been bothering me all morning. How was I going to get the Subaru sideways for Andy's Nikon? On the road the best way to approach a corner is to get it turned in almost before the apex and then let the four-wheel drive fire you out with a smidgeon of looseness at the back – if you've got it just right.
Through longer corners you also have the option of rolling it in on the brakes to set everything up nicely, with the Labrador's end of things swinging out a fraction and then staying there. But I wasn't entirely convinced that either of these techniques would blossom into the sort of cornering shot I remember Dickie Meaden achieving with a five-door WRX a couple of years ago (£20K drivers' cars, evo 078).
Fortunately I needed to visit the West Circuit to get to grips with our new timing equipment, and if lairy was to be achieved then Bedford Autodrome's vast acres seemed like the place to achieve it. It would also give me a chance to try out the Schroth QuickFit harnesses we featured in Essentials a couple of months ago.
Their big selling point is that they can be attached to the car using the bolts that secure the two standard inertia reel units on the driver's side (which the ever-helpful Souls of Olney kindly did for me in a matter of moments); additional location is then achieved using the existing seatbelt sockets, meaning you can tidy the harnesses away in an instant when you don't want the full-on Group N look. Turns out they work really well; there's nothing like being held in place tightly to give you a new perspective on a car's poise. Go to schroth.com if you fancy a set.
First time into the fast left of O'Rouge was all it took in the end. Third gear, dive in a bit quickly on the brakes and round comes the back in a nice big arc. Choose the moment, back on the power and then simply drive out of the slide. Brilliant. And a bit of a relief.
Running Costs
| | |
| --- | --- |
| Date acquired | October 2006 |
| Total mileage | 11,102 |
| Costs this month | £0 |
| Mileage this month | 1,430 |
| MPG this month | 26.6mpg |