Subaru Impreza WRX
Super allrounder but do the brakes match the performance of the rest of the car?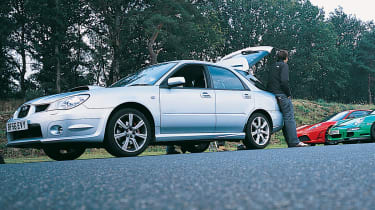 France. eCoty 2007. Following an unusually sedate Kenny P on a downhill run, a whiff of hot brakes can be smelt inside the GT3 RS that I'm driving. I can see smoke coming off our camera-filled Subaru ahead and, when we stop at the next village, the brakes are in flames. 'Brakes are too small on that, mate,' says Kenny. I agree.
There's an old adage that goes along the lines of 'ugly ones try harder'. It's certainly true of the WRX. The thought of driving our Velma-spec Scooby doesn't always fill you with excitement, but once you're up and running it's a fantastic car. I even prefer the more organic, less extreme approach of our PPP WRX to some of the more hardcore Scoobies; it's plenty quick enough and it has a fine ride/handling balance for road use.
The brakes have never matched up to the rest of the car, though, requiring a couple of stabs at the pedal before a corner, often resulting in a heart-in-the-mouth moment as they fail to slow you convincingly from the results of that warbling 266bhp flat-four.Before we set off for eCoty, BF56 was booked in at Westaway Motors, Spratton, for a 20,000-mile service and some fresh front pads. A courtesy car was provided and the service was friendly and efficient, with the final bill coming in at £341 (£140 of which was for the brakes).
Now, back from France and several hundred miles after those new pads set alight, Kenny reckons that the brakes feel a lot better than they had at first. Maybe they just needed a heat cycle…
Running Costs
| | |
| --- | --- |
| Date acquired | October 2006 |
| Total mileage | 22,202 |
| Costs this month | £341.29 (service and brake pads) |
| Mileage this month | 2622 |
| MPG this month | 26.7 |