Subaru BRZ price cut
Subaru has slashed the price of the BRZ by £2500, ahead of the WRX STI going on sale. Details here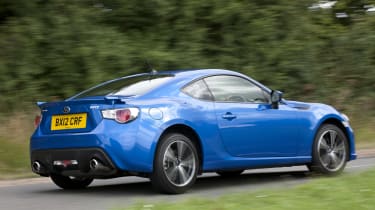 Subaru has announced a significant £2500 price cut for its BRZ model, meaning the well-equipped SE Lux model now starts from £23,995. The price-drop is possible thanks to a further improvement in exchange rates from the Japan.
With the introduction of the £28,995 WRX STI during May, Subaru is also keen to differentiate the two models with a significant price difference. The lower price is combined with the same high level of standard spec in the Lux SE trim, which includes half leather and alcantara seats. Compared to the Toyota GT86, which is almost identical apart from a few visual and suspension tweaks, the Subaru now undercuts its twin by around £1100.
Performance of the BRZ remains the same, with power coming from a 197bhp flat-four naturally aspirated petrol engine, coupled with a six-speed manual transmission. The automatic gearbox is still offered as an option too, with the model coming in at £25,495.
As of yet, there are still no official plans for a tuned STI version of the BRZ, despite various rumours. The price drop does however increase the scope to carry out modifications, via one of many supercharger conversions. Litchfield and Abbey motorsport both offer kits.
Subaru has also recently discounted prices on its XV crossover, while maintaining the new Forrester at the same price as its predecessor.