Subaru VIZIV Performance STI Concept revealed in full at Tokyo Auto Salon
Does the VIZIV STI Concept preview a next generation replacement for the iconic Impreza WRX STI?
Subaru has revealed the VIZIV Performance STI Concept in full at the 2018 Tokyo Auto Salon. Based on the VIZIV Performance concept revealed at the Tokyo motor show last year, the STI Performance Concept could be a look ahead at the next generation of Subaru STI models due post-2020.
Looking suitably aggressive, the VIZIV STI builds on the same basic body as the 2017 concept, only here peppered with STI design cues such as pink highlights, a stacked rear wing and more aggressive groundwork. In homage to Imprezas from the past, the concept's STI badging on the lower front bumper is also a new addition and gives us a clue into what to expect from STI's renaissance rumoured to take place in the next few years. 
> Click here for all the details of the Subaru VIZIV Performance Concept.
The VIZIV's body in white has been carried over from the Tokyo concept, featuring the same pumped box wheel arches and six-sided Subaru face dominating the compact saloon body.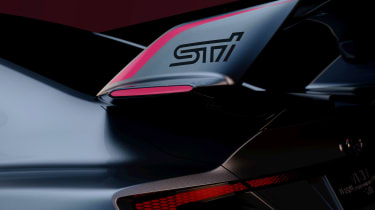 All of this is good news in the wake of Subaru's announcement that it will kill off the current WRX STI. The need for the next generation car to improve in performance is crucial though, especially considering the STI has remained largely stagnant in terms of its capabilities for the best part of 20 years while rivals have caught and passed it.
Subaru's inconsistency with the STI brand has come amid exceptional global sales for what is still very much so a niche brand in the UK. Sales in the U.S, Japan and Australia have been on a steep growth path for much of the last decade, prompting Subaru to hold onto its motorsport brand for future halo models.
> Click here for our review of the Subaru WRX STI Final Edition
Although we have few insights into a future STI powertrain, Subaru's adherence to horizontally opposed four-cylinder engines and symmetrical all-wheel drive should form a basis for it. Rumours have persisted regarding a possible application of hybridisation to raise power and reduce emissions, but until Subaru confirms further details this concept is the best look yet we have at the future of STI.