Continental SportContact 6 review
Continental's UHP tyre is rated to 215mph and promises improved steering precision over its predecessor. Here's how it stacks up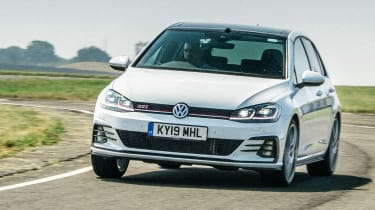 Black Chili is the name Continental gives to a new Micro Flexibility Compound designed to generate maximum grip during acceleration, cornering and braking on dry and wet roads. If you want to know how well it works, Conti would point you to the Ineos Grenadiers cycle team (formerly Team Sky) who have been racing on Black Chili for years. A special mix of Black Chili was formulated for the SportContact 6 performance car tyre under scrutiny here.
Continental also promotes its Force Vectoring tech which encompasses advanced macro block design for steering precision with stiff centre ribs and asymmetric concave longitudinal grooves for stability. Aralon350 adaptive ply material allows for controlled tyre growth at speeds of up to 215mph – well beyond the scope of our test. Certain Conti SportContact 6 tyres also use ContiSilent noise-reducing technology.
The result is a tyre designed for maximum grip in all directions, and a supreme driving experience, the manufacturer claims.
Size tested: 235/35 ZR19
Test vehicle: VW Golf GTI
Price when tested: £133
Available size range: 235/40 R18 – 335/30 ZR24
Location: Hanover Test Track/MIRA Proving Ground
Tester's notes
We tested the Continental SportContact 6 alongside the following rival products in the 2020 evo Performance Tyre Test held at Continental's Hanover test track and MIRA in the UK: Michelin Sport Pilot 4; Dunlop Sport Maxx RT 2; Goodyear Eagle F1 SuperSport; Nokian Powerproof; Pirelli P Zero (PZ4); Vredestein Ultrac Vorti.
The SportContact 6 was the slowest tyre around our wet handling circuit by a significant margin, which contrasted with how good it felt. Sharp turn-in was helped by a rear end that would slip just enough to feel exploitable without going too far. It was poor at putting the power down out of corners though, with the wheels needing to be almost straight to gain the necessary traction. The tyre was slowest bar one rival on wet circle times too.
Things improved under braking, where the Conti scored second place in both the wet and dry tests. Rolling resistance was also impressive, with a first place for a low coefficient, but the SportContact 6 came last in both of our aquaplaning tests, albeit the results were pretty tight.
Dry handling again showed the Conti's engaging and reassuring feel, but as in the wet handling tests the tyres were nowhere near quickest on lap time. In spite of that our subjective verdict was 'a great dry road tyre' thanks to great traction, positive responses and mild scrub in faster turns. This was proven on the road route where we awarded the Conti second place.
Test results: Continental SportContact 6
The full test results for the Continental SportContact 6 are below...
Test category

Result

% of best rival result

Ranking

Wet handling 

Lap time

Subjective score

48.5sec

56.0pts

94.8

90.3

6th

4th

Wet circle lap time

12.60sec

98.3

5th

Wet braking distance

27.7m

93.9

2nd

Dry braking

distance

33.8m

99.4

2nd

Rolling resistance coefficient

0.831

100

1st

Aquaplaning max speed

71.5kph

96.1

7th

Curved aquaplaning lateral acceleration

2.64m/s2

78.1

7th

Dry handling

Lap time

Subjective

52.95sec

61.5pts

99.1

97.6

5th

2nd

Road route

24.5pts

98.0

2nd

 
 
 
 

Overall

 

95.6

2nd