Vauxhall Astra VXR - Fast Fleet
Our VXR has been proving itself at Millbrook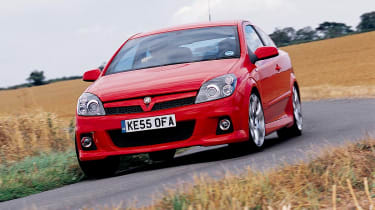 We're airborne. Properly airborne. And there's a left-hander ahead that we really need to be slowing down for. As the Astra's tyre noise falls silent and those in the back seat suddenly find themselves at a noticeably higher altitude than those in the front, there's just one thought in my mind: can we really get away with this?
Turns out we can. There's an unexpectedly graceful landing, and a brief dab of brakes kills just enough speed to see us sweep around that bend, running over to the Armco on the right with inch-perfect accuracy. Big speed, but surprisingly little drama. It's a stunning display of what the Astra VXR can do.
In fact it's not my VXR, and it's not me driving. We've been pounding round the Millbrook Proving Ground's Hill Route on-and-off all day, working towards this level of car control, but only one of the four people currently sat in the VXR can comfortably maintain this kind of pace, and that's the man behind the wheel: Ian Halton.
Ian knows a thing or two about driving, but then as one of only two people in the UK appointed by Porsche to hand over new Carrera GTs to their lucky owners, you'd expect nothing less. Today, as leader of Millbrook's Motoring Journalist Driver Training Course, he's working with some slightly more humble machinery, and as this event has been generously laid-on by Vauxhall, that means an Astra, a Vectra and a Monaro, each in its VXR form. Well, you couldn't get four people in a Carrera GT anyway, could you?
The first day of the course is spent out on the public road, practising the kind of techniques covered by many an advanced-driving book or course. It's a useful refresher, and the inevitable whiff of driving test emphasises the need for a light right foot if you want to make smooth progress in traffic in the Astra. There will be plenty of opportunity to flex those right ankle muscles tomorrow, though…
Day two's driving takes place entirely within the confines of Millbrook, enabling us to up the pace somewhat – to 140mph to be precise, for a few laps in the top lane of the High Speed Circuit. Sounds easy, especially when you're armed with a Monaro VXR capable of over 170mph, but the bumpy surface, unfamiliar forces and requirement for constant steering effort put it a world away from driving fast on level tarmac and leave me with a new appreciation of the lack of imagination possessed by those in the evo team who have added another 30 or 40mph to this figure!
A session in a tired Omega drift car – sorry, skid car – proves to be equal parts educational and fun, while performing a series of emergency stops on the Mile Straight is a serious eye-opener. The Vectra VXR effortlessly halves the braking distances (excluding thinking time) listed in the Highway Code, but even if you're familiar with the 'as speed doubles your braking distance quadruples' rule, actually witnessing those distances growing exponentially with speed has so much more impact. Comparing a stop from, say, 60mph with one from 90mph is something everyone should try.
The course's toughest test comes in the twisting, undulating form of the Hill Route. With little interruption from slower traffic, the complexities of this road-like circuit emphasise the need for a tidy approach, keeping the car nicely balanced with no sudden, spiky, unsettling inputs.
This is particularly the case in the Astra, whose compact form makes it feel more edgy here than both the bigger Vectra (which remains well composed even when really pushed) and the mighty Monaro (which feels surprisingly relaxed thanks to its long stride). Interestingly, and much as I've found out on the road, there's no need to engage the Astra's stiffer Sport mode, while its admirably aloof traction control and ESP systems are given no reason to intervene.
It's the combination of Astra and Hill Route that results in a real revelation for me, as repeated lapping exposes a flaw in my cornering technique: although I'm easing the power in gently while unwinding lock on the exit, I'm getting on the gas just a fraction too early, introducing a touch of unnecessary understeer. Getting close to the limit of grip this way may feel fast, but with this bad habit in check I find I'm able to carry a little extra speed into, through and out of a corner, exiting in a cleaner, more controlled fashion.
With its front-end grip in strong demand, it's an approach that the Astra responds to particularly well. In fact, putting it into practice over a few final laps, I begin to see the VXR in a new light as I discover for myself that, with its wilder tendencies tamed, the Astra can really fly.
Running Costs
| | |
| --- | --- |
| Date acquired | February 2006 |
| Total mileage | 15,188 |
| Costs this month | £0 |
| Mileage this month | 3269 |
| MPG this month | 30.6mpg |