Watch – Goodwood Festival of Speed LIVE
Follow all the festivities from Goodwood, including highlights from Thursday's moving motor show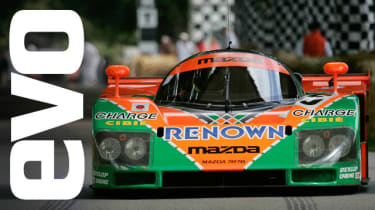 The Goodwood Festival of Speed is finally upon us. You might even have visited the show today, where the popular Moving Motor Show allows prospective customers to get behind the wheel of different cars and tackle the famous hill climb.
Still, there's plenty more to enjoy from the Festival, from the UK debuts of the new Nissan Juke-R, Ferrari's Tailor Made program and an electric Morgan 3 Wheeler, to the sight of classic racers, F1 cars and more setting searing times up the hill.
Keep up with all the action on the official live stream below.
And if you're heading along to Goodwood this weekend, don't forget to read our 'everything you need to know' guide to the Festival of Speed.
Below is a full timetable for Friday's events:
| | |
| --- | --- |
| TIME | Detail |
| 0650hrs | Entrances Open - authorised by ESO only |
| 0830hrs | Batch 1 (Titans, Pre-War, Classic Endurance, Post-War GP, Alpine - 50 cars) |
| 0920hrs | Batch 2 (Saloons, Rally, Drift, NASCAR - 45 cars) |
| 0930hrs | RALLY - Stage Opens - cars to run in chronological order |
| 1005hrs | Batch 3 (Cosworth, Turbo, Flat-Broke, Americana - 50 cars) |
| 1030hrs | GAS COMPETITION - Warm Up Session |
| 1055hrs | Batch 4 (Bikes, Contemporary F1 - 60 bikes + 6 cars) |
| 1100hrs | Bonhams Fine Automobilia Auction |
| 1135hrs | Batch 5 (Sports 65-81, Derek Bell, Group C, post-Group C, Modern GTs - 50 cars) |
| 1145hrs | GAS - TRIALS (Ice House Area) |
| 1200hrs | Air Display - RED ARROWS |
| 1225hrs | Batch 6 (Supercars + First Glance - 60 cars) |
| 1300hrs | RALLY - Stage closes for lunch / service break |
| 1310hrs | Batch 3 (Cosworth, Turbo, Flat-Broke, Americana - 40 cars) |
| 1315hrs | GAS ARENA - Show |
| 1345hrs | Batch 1 (Titans, Pre-War, Classic Endurance, Post-War GP, Alpine - 40 cars) |
| 1400hrs | Bonhams Motor Cars Auction |
| 1400hrs | RALLY - Stage Opens - cars to run in chronological order |
| 1420hrs | Practice Shoot-Out - 50 cars |
| 1500hrs | GAS - TRIALS (Behind Park 1 Grandstand) |
| 1510hrs | Batch 4 (Bikes, Contemporary F1 - 60 bikes + 6 cars) |
| 1530hrs | Air Display - Typhoon |
| 1550hrs | Batch 5 (Sports 65-81, Derek Bell, Group C, post-Group C, Modern GTs - 50 cars) |
| 1600hrs | GAS ARENA - Show |
| 1630hrs | Batch 2 (Saloons, Rally, Drift, NASCAR - 30 cars) |
| 1700hrs | GAS - TRIALS (GAS Arena) |
| 1705hrs | Batch 6 (Supercars + First Glance - 60 cars) |
| 1730hrs | GAS ARENA - FMX Best Trick |
| 1730hrs | RALLY - Stage closes |
| 1900hrs | Hill climb Closes |