Earlier this century, Mercedes-Benz created a series of replicas of the vehicle considered by many to be the dawn of the automobile as we know it today – the 1886 Benz Patent Motorwagen.
It's very much an object of the horseless carriage era, with a quaint leather seat, three spindly wheels and liberal use of brass – a material sure to make a comeback at some point. And you'll find them everywhere, from Mercedes-Benz World at Brooklands and the enormous Mercedes museum in Stuttgart, to the Le Mans museum at the circuit in France.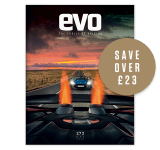 Subscribe to evo magazine
Subscribe today to have every issue of evo delivered straight to you. You'll SAVE 39% on the shop price, and get evo for its original cover price for a whole year!
Also, as it turns out, Volkswagen Zeithaus at the Autostadt in Wolfsburg. It's the very first car you'll see after disembarking the escalator to start the tour around Volkswagen's hometown multi-storey museum – a collection that focuses not on Volkswagen itself (though that's obviously a significant part of it), but on the history of the automobile as a whole, and VW's place within it.
You do come to actual Volkswagens soon enough, with an immaculate example of a 1938 KdF-Wagen, perched alongside one of the very last Beetles, built in Mexico in 2003 as the Final Edition. That's a run of 65 years with only minor changes – almost half the 134 years the automobile itself has existed.
Walk on a little more and you also advance through time, from a charming Type 3 notchback to cars of a more evo slant – a 1974 Kaimann Formula Super Vee and a 1975 Group 2 Scirocco racer.
Austrian constructor Kaimann was a big name in Formula Vee in the 1970s, having been raced by drivers such as Niki Lauda and Keke Rosberg. The car in Wolfsburg's collection makes 122bhp from its 1.6-litre flat-four. The Scirocco, meanwhile, makes as much as 170bhp and weighs in at just 775kg, achieving success in the 1.6-litre class in the DTM's early years.
While the exhibits at Zeithaus are rotated over time, the next hall is certainly eye-catching, with cars as diverse as an early Porsche 911, a Messerschmitt 'Kabinenroller' microcar, the all-aluminium Audi A2, and a recreation of one of the world's most valuable cars: the Bugatti Type 57 SC Atlantic.
Only 45 of the last one were made overall (and most of those remaining reside in private collections) but it's stunning to see even a recreation in the metal, with its riveted panels and teardrop shape. A real Atlantic is astonishingly lightweight too at 950kg, lending credence to Ettore Bugatti's quote that his contemporary rivals at Bentley built 'fast trucks'.
The next section is a little more down to earth, and admittedly a little less evo, with key exhibits being a Mk2 Golf Country – a car that predates the current crossover trend by decades, but is undoubtedly part of its history – and an example of the Type 181. If you don't recognise the model code, you're probably more familiar with its US moniker, the imaginatively titled 'Thing' (UK versions, not that there were many, were known as the Trekker, and carry the Type 182 code for right-hand drive).
One floor down there's a more sporting theme, the centrepiece being a striking 1982 Porsche 911 Turbo 3.3, also known under the 930 name. When the 930 debuted in 1975 it made 256bhp, less than you'd get now from the 2-litre, four-cylinder 718 Boxster and Cayman. By the time it bowed out in 1989 though, replaced by the 964, the 930 was making 325bhp from its 3.3-litre and could reach 62mph in under five seconds – enough now to outpace manual versions of that 718 Cayman.
Sharing hall space with the 930 is a Saab 99 Turbo, one of the first production cars to use this form of forced induction, while at the back is an example of Americana quite different to European sports cars of the age. It's a 1953 Chevrolet Corvette, with the early 148bhp 'Blue Flame' in-line six and original colour combination of white paintwork and a red interior.
Move along and the next hall covers the work of some of the world's greatest automotive designers, and the objects they penned. One car dominates the room however – Marcello Gandini's Bertone masterpiece, the Lamborghini Countach. Volkswagen's example is an early LP400 from 1975, and all the easier to appreciate because of it – free of the slats and spoilers of later cars (though inclusive of some of the vents!) it's one of the most jaw-dropping shapes of the era.
Giugiaro's Alfasud is just around the corner, followed by one of VW's most ambitious projects, the XL1 economy car, placed next to an early exploration in aerodynamics in the form of a 1945 Tatra 87. Their power plants could hardly be more different either – flat-four for the Alfasud, a twin-cylinder diesel boosted by electric power for the XL1, and a rear-mounted 3-litre V8 for the luxurious Czech.
Things get even weirder before we leave, courtesy of a small selection of VW's old concept cars. First is the Chico, a 1992 hybrid-powered small car study. Behind it is the Nils – launched at the Frankfurt motor show in 2011, a compact electric car that featured a tandem seating layout and fully enclosed cabin, not unlike a sportier, lower-slung Renault Twizy. Then, finally, there's the Furura, previewed in 1989 with a Golf-sized body, gull-wing doors, four-wheel steering and automatic parking.
Visit Zeithaus at the right time and you may well see a more performance orientated line-up than we experienced (though it's worth noting it's currently closed due to the ongoing global health crisis) but whatever arrangement of cars you experience, it's a fascinating look through automotive history. If you've got a Golf GTI on order, there's no better excuse to pick it up from the factory.