The Polo GTI has always found itself in something of a predicament. Designed as a grown up, mature supermini the Polo GTI has never really found favour with enthusiasts thanks to this underlying conservatism. Repeatedly unable to capture the larger Golf GTI's effervescence, the new Polo GTI has been redesigned from the ground up to achieve this goal, and is closer than ever to its talented bigger brother. But can it capture the Golf GTI's magic, or will it fall into the same 'must try harder' category as previous versions?
Visually, the Polo is not off to a great start. The now five-door-only bodywork, shared with the standard car, is overly-complex and looks more like a demonstration of VW's latest metal stamping techniques than a production car aiming to get your hot hatch juices flowing. Combined with somewhat front and rear bumper assemblies, even the GTI's trademark design cues like the honeycomb grille and red highlights struggle to lift the Polo GTI above indistinct. Compared to the aggressive new Fiesta ST or the bolder Mini Cooper S the Polo's lack of visual pizzazz is not surprising, but not any less underwhelming.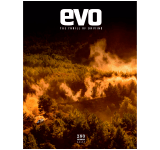 Subscribe to evo magazine
Subscribe today to have every issue of evo delivered straight to you. You'll SAVE 39% on the shop price, and get evo for its original cover price for a whole year!
> Click here for our review of the Ford Fiesta ST
Under the skin, however, the new Polo GTI has made a much better fist of aping its big brother. Now based on a similar, albeit simplified chassis, sharing the same excellent EA888 turbocharged four-cylinder engine, and the standard Golf GTI's XDS electronic front diff, have these new ingredients finally given the Polo GTI the tools to offer a Golf GTI experience at a lower price point? Well, yes, and no.
Performance and 0-60 time > Competitive on-paper figures and flat power and torque curves correlate to a muscular feeling on the road
Engine and gearbox > The trade-off being a hesitation to rev. Gearbox is typically polished, but as of April 2019 there's still no manual option
Ride and handling > Entertaining enough at road speeds, but it's a little one-dimensional as the pace rises
MPG and running costs > Near 40mpg on paper although as with all performance cars this doesn't correlate to real-world usage
Interior and tech > Solid, ergonomically sound and functional, GTI elements brighten up the practical, but still dull standard interior
Design > The exterior GTI addenda is less successful at portraying what's under the skin. Looks more like a high-spec Polo than proper GTI
Prices, specs and rivals
The new sixth generation Polo GTI is currently available in two models – basic GTI and GTI Plus. If you were hoping that the Plus would bring with it similar goodies to the Golf GTI Performance, though, you'll be disappointed, as there are no technical upgrades, just added levels of equipment. As standard, all the usual GTI goodies apply, including tartan sports seats, 17-inch wheels, twin chromed exhaust pipes and a subtle, but still obvious, rear wing.
Plus models add adaptive cruise control, LED headlights, Volkswagen's digital dial pack and heated and folding mirrors. Both models are available with options like larger 18-inch wheels, sunroof and an upgraded infotainment system with embedded satnav if you wish to further bolster the Polo's standard equipment. Prices for the basic car start at just over £21,660, with the Plus model £1500 more expensive at £23,160.
> Click here for our review of the Toyota Yaris GRMN
The arrival of the new WLTP emissions regime combined with the ebb and flow of new models arriving and old ones departing the supermini hot hatch class is in a state of transition at the moment, with less choice than there used to be. Peugeot's 208 GTi by Peugeot Sport has been a firm evo favourite for the last couple of years, offering a far more dynamic driving experience than most rivals, dominated by its rev-happy 1.6-litre turbocharged four-cylinder engine and scalpel-like front end. But along with machines such as the DS 3 Performance it's no longer offered which perhaps leave the new Ford Focus ST as the most entertaining car in the class.
Like the Polo GTI the Fiesta ST is available in two guises, ST-2 and ST-3, and has the advantage of being offered in both and three- and five-door bodystyles. Prices undercut the GTI, admittedly not by much, but in ST-3 guise it's as well equipped as the Polo, too. What the Ford does offer though is a manual gearbox and a much more interactive driving experience with a chassis that will entertain in a way that's not possible with the Polo GTI. 
The typically polished Mini Cooper S is also a constant threat, offering a similar combination of a 2-litre turbocharged engine and dual-clutch gearbox in its facelifted guise. The Mini might initially look like a cheaper car too, but despite a lower price tag for the Cooper S Classic it's considerably down on equipment when compared to the Polo. To match the equipment levels of the Polo, especially in Plus form, the cost discrepancy increases as its tempting options list is raided. Toyota's Yaris GRMN is also a more expensive and decidedly aggressive offering... if you can get your hands on one, which you can't.