If there was a reason to walk straight past a compact SUV, the Audi A4 Avant is probably it. In all honesty, it's probably not the A4's stellar brilliance that informs this, good though it is, but solid proof that a normal estate is such a well executed family car, it happily renders most SUVs as completely pointless. But to put the SUV argument to one side, Audi's newest A4 is the best one yet, so is it a worthy buy if you need the space, but aren't interested in the kudos?
The A4 isn't huge; it's still considered a compact premium estate in most circles, but even so it has a boot largely big enough for all the family clobber (actually scratch that, no car can ever have enough space for family clobber). Its closest rivals are fellow German compact executive estates, such as the C-class and 3-series, however if you prefer your compact executive estate to originate from a less obvious source neither Jaguar, Alfa Romeo or Lexus offer direct alternatives, although they are all more than happy to sell you a similarly sized SUV.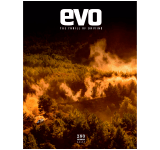 Subscribe to evo magazine
Subscribe today to have every issue of evo delivered straight to you. You'll SAVE 39% on the shop price, and get evo for its original cover price for a whole year!
> Click here for our look at the new BMW 3-series
The current A4 has been on sale for a couple of years now, but is newer than both its rivals, although the all-new G20 3-series will soon spawn an estate of its own. As a package, the smartly dressed A4 is not the flashiest option either, and many people do lament the fact it looks so closely aligned to its predecessors, but study the details and you'll struggle to find another car on sale with such finely wrought detailing. The fit and finish is utterly superb, with tight gaps, consistent paint and bodywork folds as crisp as freshly ironed sheets. They sounds like small things, but it's these details that enforce the 'premium' vibe, reinforcing the price tag.
Engine, transmission and 0-60 time
As with the saloon, the A4 Avant is available with a range of Audi's refined and efficient petrol and diesel engines. Hybrid or full-EV models have yet to be spread into the range as they have been in rivals like the C-class and BMW 3-series, the A4 lacking even a mild-hybrid system, but you won't likely be stuck for choice as the entire engine range is wide and generally impressive, no matter the option.
The range kicks off with a 148bhp 1.4-litre turbocharged four-cylinder engine connected to either a six-speed manual or seven-speed S-tronic. It'll reach 62mph in a leisurely 9.0sec, befitting its entry-level status. There are then two 2-litre turbo petrols – one with 187bhp and front-wheel drive, the latter a more potent 249bhp version connected to Audi's quattro all-wheel-drive system. Both are only available with the S-tronic transmission and reach 62mph in 7.5sec and 6.1sec respectively. There are then a total of four diesel engine options – two four-cylinder and two six-cylinder, ranging from the feeble (and popular) 148bhp base version right through to a 268bhp V6. The most potent four-cylinder diesel will reach 62mph in 7.9sec, the V6s meanwhile doing it in 6.7sec and just 5.4sec for the flagship diesel.
> Click here for our review of the updates Mercedes-AMG C43
A pair of V6 petrol engines are also available in the S4 and RS4 Avant, the latter producing 444bhp from its Porsche-developed 2.9-litre twin-turbo unit. The higher-powered V6 diesel and both the S4 and RS4 trade the S-tronic dual-clutch gearbox for an eight-speed Tiptronic automatic with a torque converter, due to the higher torque loads. All diesels except the entry-level four-cylinder get quattro, too. An interesting difference to note against its rivals is that Audi offers a lower-powered 3-litre V6 diesel with 216bhp, but this engine is designed primarily as a torque-rich powerplant as opposed to the more highly strung flagship four-cylinder diesels found in Mercs and BMWs, which often trade refinement for extra performance.
Technical highlights
Before we dissolve into platforms and usual manufacturer jargon (that a certain editor of this title just loves) all you need to know is that the A4 is a real Audi. Its engine is longitudinally mounted, and shares its basic platform layout with everything from the A8 right through to the Lamborghini Urus (we're not kidding). As a result, the A4 feels as sophisticated and mature as you would imagine of a premium German car. Part of this car's MLB construction (damn it, I mentioned manufacturer jargon) is its quattro all-wheel drive. Power is sent to all four wheels in a 60/40 front-to-rear split, rather than the common reactive system.
What's it like to drive
If you haven't driven an Audi in the last few years you might be surprised to hear that the new A4, along with many modern Audis, has finally banished the strange wooden feeling that afflicted Audis' steering and suspension for so many years. The damping is supremely well calibrated, finding a great balance between gliding over imperfections but keeping a surprisingly tight grip on overall body control.
S-Line models are firmer, and the 3.0TDi Black Edition model we drove combined this with a set of 19-inch alloys, but still remained perfectly acceptable on even the worst of road surfaces. You can tell that there isn't a huge amount of tyre between rim and tarmac, though, with sharper intrusions causing the usual shudder within the cabin. But this is par for the course with cars in this class really, and it still rides with just as much sophistication as both the BMW 3-series and Mercedes C-class on last assessment.
The steering is also much nicer than it used to be. It's not exactly wrything in feel, but the rubber band-like resistance that afflicted previous A4s is completely gone. In its place is a well-weighted and accurate rack that feels more natural than the dead helm in a BMW 3-series. Dig deeper into its capability and you'll find the limits are benign and friendly, with the car pushing into mild understeer with nothing like the severity in Audis of old. On models fitted with quattro, despite the rear-bias, traction is absolute, with even the RS4 rarely overwhelming the chassis under power.
Around town, refinement is generally impressive, although the engines can be a little more intrusive than you might expect. On faster roads the A4's superb cruising capability is undeniable, settling down with an easy long gait, swallowing massive distance without a sweat. The 3.0TDi's refinement is also remarkably impressive at speed, although overall road noise isn't quite as muted as its larger A6 and A7 siblings.
Price and rivals
The A4 may be a better car than it's ever been, but it's also become an expensive proposition. Prices for the Avant start at £28,365, but specify an automatic gearbox, S-Line trim or diesel engine and you'll be well over £30k. Go for all three, as many do, and you'll be breaching £36k. Six-cylinder diesels start at £38,945 and rise to £44,015 for the fully kitted-out high-power S-Line Black edition.
The Mercedes C-class starts a little higher on the scale at £33,630, but like the Audi spec one up to a popular combination like the C220d AMG-line model and it quickly breaches £40k. If you're after a six-cylinder diesel you'll also be disappointed as Mercedes has yet to release a new-generation C350d, with the diesel range instead topping out with the C300d AMG-line 4Matic at £43,000, although it does lack the Audi's impressive turn of speed and refinement.
BMW's all-new 3-series has yet to spawn a Touring model, although it won't be far behind the all-new G20 model's release next year. The current F31 3-series Touring is still a good car, though, especially when fitted with BMW's excellent twin-turbo six-cylinder diesel in 335d xDrive form. Volvo's new V60 is also a new force to be reckoned with, sharing its sleek Swedish design and high-quality interior with the rest of the Volvo range. Engines are quite limited at this point, but will quickly diversify into multiple forms of petrol, diesel and two high-performance plug-in hybrid models.
As mentioned above, other compact executive estates are few and far between, instead replaced with mediocre SUVs such as the Alfa Romeo Stelvio, Lexus NX or Jaguar E-Pace, just to name a few. All of these SUVs are also generally pricier, less well equipped and, crucially, worse to drive.