We're now in the second generation of Audi's RS7, which - strange as it may sound for a five-door, high performance pseudo-coupe - enters a market more crowded than ever before.
The previous RS7 was likeable but ultimately lost out to rivals like the Porsche Panamera GTS and BMW M5 when we last pitched them together. Audi has learned a few lessons since then and the latest RS7 comes packed with technology, some of which has the potential to improve the driving experience. Has it succeeded?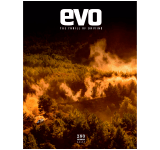 Subscribe to evo magazine
Subscribe today to have every issue of evo delivered straight to you. You'll SAVE 39% on the shop price, and get evo for its original cover price for a whole year!
Engine, transmission and 0-60 time
The RS7's power comes from a revised version of the firm's 4-litre, twin-turbocharged V8 TFSI unit, with cylinder-on-demand technology to reduce fuel consumption and a 48V mild hybrid system to do likewise.
In purely numeric terms the latest V8 is considerably more potent, with power now up to 592bhp, a gain of 39bhp, and torque of 590lb ft, around 74lb ft more than before. The engine is still attached to an eight-speed tiptronic automatic transmission, with power to all four wheels through a mechanical centre diff and a locking "Sport differential" at the rear axle to apportion drive. The standard torque split is 40:60 front/rear, while the centre diff can delegate up to 70 percent drive to the front wheels or 85 per cent to the rear if the situation calls for it.
The "mild-hybrid" technology - a glorified term for a belt-driven starter-alternator - is primarily there to reduce load on the powertrain to improve economy, rather than providing any real assistance, but combined with cylinder-on-demand tech is good for fuel savings of around a fifth of a gallon every 62 miles. 0-62mph, meanwhile, takes 3.6 seconds, while top speed is limited to 155mph, with 174mph and 189mph raised limiters optionally available.
Technical highlights
We had a fascinating chat with one of Audi Sport's technical team about improvements to the company's four-wheel steering system.
What had initially felt unnatural and delivered remote steering feel is now much more natural, and it's the work not just of tuning behind the scenes, but also the way S and RS models are set up differently from other Audis.
For a start, with models like the RS7 using only two wheel sizes (21 and 22 inches), Audi Sport engineers can be more exclusive with their tuning, rather than compromising for everything from 17-inch winter wheels and tyres to massive 22-inch optional rims. S and RS cars use stiffer bushings in the suspension too for more precision, while ECU work has improved the feel of the dynamic steering setup.
The four-wheel steering is also very clever. It's fully 3D-mapped so isn't just programmed to give you certain angle at certain speeds, as old systems used to. Now its behaviour changes constantly depending on load, steering input, speed, and a multitude of other factors. Depending on how you're cornering, in other words, those rear wheels could be pointing in the same direction, or the opposite direction to the fronts - whatever is optimal for a given scenario.
What's it like to drive?
Audi's performance cars have followed an encouraging trajectory of late, feeling more responsive and interactive than their immediate predecessors even as much of the S range has made the curious move to diesel power.
The RS7, thankfully, continues down this path. You may well be pointing two tons of metal down the road (2065kg, precisely), but the RS7's skill is in ensuring it rarely feels this way, through a combination of ample thrust, faithful steering responses and tireless stopping power.
In terms of thrust, the V8 really does its job. Power delivery is creamy smooth, and unlike the diesel in the S7, this is a powertrain that pulls hard virtually from idle, flicks cleanly through each gearchange, and continues to deliver its wallop until the limiter cuts in. It feels good for its performance figures certainly, though so linear is the power curve your only real indication of speed is the hyperspace effect of roadside furniture.
The exhaust note is appealing, if perhaps a little quiet - though it's hard not to concede that Audi has judged noise levels perfectly for this type of car, and on a cruise it's as whisper-quiet as any other A7. Ride quality too is well judged, with the usual caveat of relatively unmarked German road surfaces. It could certainly be worse given our test car was wearing 22-inch wheels, but we'll have to drive the car in the UK before forming firm opinions.
Handling is another matter. The RS7, like other large Audis, has the firm's four-wheel steering system, and it gives the car the agility of something much smaller. Audi's behind-the-scenes tweaks have really been working of late, to the extent the system has no real downsides - it's manoeuvrable in the city, agile in the country and stable on the Autobahn.
Only under braking and through quick direction changes is the RS7's weight really apparent, and even then it's hardly all at sea. You'd have to do something quite foolish to discover any understeer on the road - the rear axle seems to judge your steering inputs to perfection, always ready to assist with whatever the front wheels are doing.
And of course, grip levels are mighty and traction is a non-issue on dry roads. Even dynamic steering feels pretty good these days - not a paragon of feedback exactly, but well-weighted, accurate, and linear in the way it responds.
We spent the entirety of our drive with the Virtual Cockpit in the "RS Screen" view, which replaces traditional round instruments for a motorcycle-style bar-graph tachometer, power and torque displays, and configurable elements such as a g-meter or lap timer. It's a bit naff, so we'd probably switch back to the traditional display.
The rest of the interior is as well-built and luxuriously-appointed as any other A7 though, and while you're in there you don't have to stare at some of the more ill-judged exterior details. Keep away from that option to have all the badges painted black, yeah?...
Price and rivals
Audi hasn't officially announced RS7 pricing yet, but you can expect something north of £90,000 for an unadorned car. UK models do come with dynamic all-wheel steering and the sport differential as standard though, as well as the raised 174mph speed limiter. Those UK cars also get an optional three-seat rear bench rather than the standard two pews - a nod to the fact that, despite going for the aesthetic option over say, an RS6, UK buyers still value a little practicality in their five-door coupes.
Talking of which, rivals. Audi proffers the Mercedes-AMG E63 S and BMW M5, at £95,255 and £91,600 respectively. Conceptually, we'd also be tempted to add everything from the Mercedes-AMG CLS 53 (£74,565) and AMG GT 4-door (£121,415), to the Porsche Panamera 4S (£92,443). You could make a case for the Taycan being an RS7 rival too, while the £91,800 Tesla Model S Performance falls neatly in RS7 territory - while beating its accelerative performance.