Design
Probably the most controversial part of the SQ7 is the way it looks. It makes no apologies for being big, and none of its styling seems to disguise its bulk. But if what you want is an imposing car, one that when driven at a brisk pace will look so absurd and frightening that it will cause other road users to dive out of your way, then the SQ7 will be perfect for you.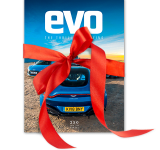 Subscribe to evo magazine
If you're passionate about the world's greatest performance cars, experience the thrill of driving with evo magazine. Try your first 5 issues for £5.
It looks best with the huge 22-inch Audi Sport wheels. Not only is the two-tone, Y-spoke design, with deep centres rather appealing, but it makes the rest of the car look much better proportioned. However, they're not with it for the effect they have on the way it drives.