Audi TT RS review – a five-cylinder quattro coupe, what's not to like? - Performance and 0-60 times
Huge performance and a mesmerising soundtrack, but the TT RS can't capture true sports car greatness
Performance and 0-60mph time
As we've mentioned, traction off the line is deeply impressive. To activate the launch control you need to be in Dynamic mode, with the transmission and ESC both in Sport. Then it's simply a case of holding the RS on the brakes with your left foot and pushing the throttle all the way through the kickdown to the end of its travel. Then, with the revs steady at about 3500rpm, you just release the brakes.
The claimed time for the sprint to 62mph (100km/h) is 3.7sec, but we've recorded a 0-60mph time of 3.4sec. Quicker than the 3.5sec evo once recorded in an Enzo and near as dammit McLaren F1 quick in an Audi TT. Madness.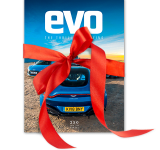 Subscribe to evo magazine
If you're passionate about the world's greatest performance cars, experience the thrill of driving with evo magazine. Try your first 5 issues for £5.
We didn't stop at 60mph, though. The TT went on to reach 100mph in 8.1sec, 120mph in 11.8sec and 140 in 17.5sec.
We haven't strapped our timing gear to the TT RS Roadster yet, however it's safe to assume that it too would be a little quicker than Audi's claimed figures. The drop-top's official 0-62mph time is 3.9sec, understandably slower when you consider it weighs 90kg more.