Interior and tech
If there were to be a template for how sports car interiors should all look in the future, this would probably be it. The TT RS builds on the already excellent TT, itself a beacon of minimalist design and exceptional build quality.
Despite the pared-back nature of the new TT RS's interior, it's chock full of brilliant detailing and little features that make you realise that Audi really thought about the cabin in a different way to most other manufacturers. The first thing that strikes you are the three propeller inspired air-vents, then look closer and you realise that they also inhabit the controllers for the entire HVAC system, having twist knobs that also function as temperature and fan displays. This unconventional and minimalist layout takes a little getting used to – the heated seat button is easy to miss (it's within the outer most air vent) and directing airflow isn't intuitive (you have to rotate the outer bezel until you feel it pointing in the desired direction) – but once you're familiar with it you'll find other climate and heater control terribly old fashioned.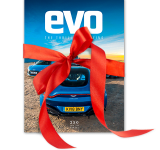 Subscribe to evo magazine
If you're passionate about the world's greatest performance cars, experience the thrill of driving with evo magazine. Try your first 5 issues for £5.
The steering wheel is taken from the Audi R8 supercar, but with the shrunken steering wheel boss and red starter button it looks like it could have come straight off a concept car. The other new button controls the 'drive select' function, allowing drivers to alter the behaviour of the car via the 12.3-inch 'Virtual Cockpit'.
Speaking of which, Audi's revolutionary driver information system is the only infotainment screen in the TT and as such is less superfluous than in other Audi models fitted with the same virtual cockpit. This leaves the inteior free of ugly displays and unnecessary buttons. The basics are just so right in the TT, there is no need for anything more.
Despite having what Audi call back seats, in usual TT fashion they are only suitable for very small children or extra luggage. Boot space is generous for the class and if you fold the second row you're left with an oddly shaped, but still usable cargo area.
The same compliments surrounding practicality cannot be leveled at the TT RS Roadster. It does not have back seats at all and its boot is surprisingly small, the folding cloth roof taking up both spaces. It's just another sacrifice you have to make for miles and miles of headroom.