Design
This is where the TT RS starts to become a little more challenging. The clean crisp lines of the standard car remain, but the extra detailing and complexity front and rear can make the RS look a little busy. The diminutive dimensions don't leave much space for these 'sporty' details, although when specced right, the TT RS can look purposeful without being overwrought.
For a more subtle effect, one can deselect the static rear wing in favour of the standard electronic one; likewise the larger wheels may look impressive, but will negatively affect the ride and MPG figures.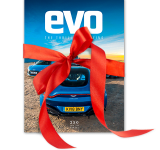 Subscribe to evo magazine
If you're passionate about the world's greatest performance cars, experience the thrill of driving with evo magazine. Try your first 5 issues for £5.
That said if you are in the market for a sports car like the TT RS, subtlety is unlikely to be on top of the agenda, so everyone else should be prepared for plenty of dubiously specced examples to be on the road in no time and a good proportion of soft-top ones too.
Finally, those OLED (Organic Light Emitting Diode) tail lights look great, but for the money you would be better off putting it towards half of the optional dynamic pack.