Ten grand in 2020 will just about get you a new city car, or a decent supermini with a few years of warranty left. Or, if you're feeling more adventurous, one of the cars below – proper evo heroes offering just about every motoring experience you could ask for.
That includes two of our favourite front-wheel-drive cars of all time, a four-wheel-drive rally refugee, and a proper mid-engined Porsche; not bad going we reckon, and with some you'll have enough cash left lying around for an oil change and a decent set of tyres too.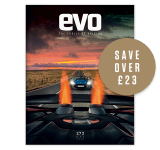 Subscribe to evo magazine
Subscribe today to have every issue of evo delivered straight to you. You'll SAVE 39% on the shop price, and get evo for its original cover price for a whole year!
Naturally, you're wise to do some research at this level in the market, as the average ten-grand performance car will have a lot more than ten years under its wheels and will naturally have been driven a little harder than something a little less colourful. Consider the cars below as suggestions rather than recommendations then – but if you do end up buying one, let us know how it goes via Twitter or Facebook.
Porsche Boxster (986) – Stuart Gallagher
Don't be fooled by the hairdresser's car name tag: the 986 Porsche Boxster is a proper sports car, especially in S form. Eking out 252bhp from its mid-mounted 3.2-litre flat-six, the Boxster S could dash from zero to 60mph in 5.7sec and on to 162mph. Though that placed it in BMW Z4 territory, its sharper, typically communicative Porsche chassis meant it very much warranted the famous Stuttgart badge on its nose.
Capable as it may be, the 986 is getting on a bit these days, so unsurprisingly does often suffer from some issues. We said of the 3.2-litre unit: 'One of the key areas to check is around the bell housing. An oil leak here could indicate a crankshaft oil seal failing, but as long as oil isn't dripping on the floor, replacement can usually wait until the car needs a new clutch.
> Porsche 718 Boxster review - was swapping two cylinders for a turbo a good idea?
The car's effective suspension is also prone to wear-related issues after 30,000 miles, with bottom-arm bushes often needing replacing beyond this, as do rose-joints on the trailing arms.
If a car with these refreshed parts and regular servicing falls into this price bracket, generally, you're on to a winner. If you can stand the image-related comments, £10,000 can buy a fairly low-mileage, well-looked-after Boxster S.
Honda Integra Type R (DC2) – Antony Ingram
Under ten grand still just about gets you the best front-wheel-drive performance car ever made, and if that accolade isn't a reason to spend your money on a DC2 Honda Integra Type R, I'm not sure what is. There was a time when Integras were even more affordable than they are today, as little as half our ten grand budget, but even at the current figure it's a performance bargain.
It takes a little time to warm to the Integra. At low speeds it feels anodyne, even if the bright red Recaros, Momo airbagged steering wheel and titanium gearknob all lift the typically dark 1990s Japanese cabin. The steering feels mute, the engine smooth but characterless, and the ride slightly brittle.
> Honda Integra Type-R DC2 – review, history, prices and specs
Get it up on its toes though, and the Type R transforms. The engine is one of the best four-cylinders ever made, screaming like a touring car at its red line, the steering comes alive, and the balance is wonderful. Describing cars as having a Jekyll and Hyde character has become a bit of a cliché, but few fit the description better than this.
There are certainly some ropey examples on the used market, and plenty of modified cars you should probably steer clear of (few cars, in our opinion, need altering less than an Integra), but find a good one, with minimal rust, and Integras are also relatively trouble-free.
Renault Sport Clio 200 Cup – Steve Walker
You can certainly get more performance for £10,000 than the Mk3 Renault Sport Clio can muster, but as the years go by, these cars increasingly look like a hot hatch sweet spot. Front-wheel drive, no turbos and the extra focus of the Cup chassis variants mean the performance you do have is so easy to enjoy on the road. And for £10,000, or quite a bit under that, you can get a really good, low-mileage example.
The Renault Sport Clio 200 arrived with the Mk3 Clio's midlife facelift to replace the pre-facelift Renault Sport 197 models. The 3bhp power hike wasn't the half of it though, because Renault made a whole series of revisions of the kind that matter much more. More flexibility from the engine, stiffer suspension and, on the Cup variants, a faster steering rack honed the experience on the road. The Cup models are also 36kg lighter than the standard cars, but less well equipped.
The Renault Sport 200 is great fun on the kind of country lanes many of us have on our doorstep, being not too firm and with a brilliantly adjustable chassis. Zero to 62mph takes 6.9sec, but fast progress is achieved by ringing out the high-revving engine and firing through the gearchanges. The driver always feels an integral part of the process.
Subaru WRX STI Type UK (MY08-09) – Jordan Katsianis
Remember when the WRX STI was a pumped-up, wide-body hatchback? So the older bug-eye, blob-eye and then hawk-eye saloons (2001-2006) might be the object of many cheap rally car enthusiasts' attention, but in my book it's this newer WRX STI hatchback released from 2008 that appeals as a more useable, yet just as entertaining option with a tad less of an, um, image problem.
UK cars might be lacking the endlessly revvable 2-litre EJ207 engine from JDM models in favour of the larger, lazier 2.5 EJ257 designed for the USA, but aside from that its higher torque figure and resilience to producing industrial quantities of mayonnaise from its flakey head gasket (both of those descriptions are quite literal) make it a more attractive buy in the UK.
> Subaru WRX STI review, specs and prices
What was retained from the old model is the grippy, throwable nature. Despite an active rear-differential (turbocharged hatchbacks with all-wheel drive and an active rear diff... who would have thought that might have taken off 12 years later?) the STI remains a catch and release tool. Overcome an inherent propensity to understeer by loading the front axle and turning in with a silly amount of trail braking, perhaps even a little scandinavian flick, and the STI hatchback will swing its chunky little tail around, waiting to be scooped up by a solid application of throttle and all-wheel-drive traction. It's a wonderful feeling these later STIs have the grunt to achieve, especially in wet and muddy conditions.
It even looks great to my eyes in 2020. The interior is basic, but solid, and key touchpoints such as the seats, steering wheel and driving position are all sound too. It's even reliable, although be prepared to keep things in check with a regular local garage visit as Subarus will only last on the caveat you stick to the service regime like you do the inside line of your favourite bend.
Ford Fiesta ST (Mk7, 2013) – Sam Jenkins
The Mk7 ST was a long-awaited addition to Ford's previous-generation Fiesta line-up, coming just shy of five years after the launch of the standard car. It was certainly worth the wait, however, proving to be one of the best performers in its class.
The Mk8-generation car has been on our roads for a few years now, and despite losing a cylinder, it too is an incredibly capable machine. Used prices are frustratingly resistant to depreciation, though, making the Mk7 a much more appealing used buy.
A peppy 1.6-litre turbocharged four-pot sends 180bhp and 213lb ft of torque to the front wheels through a slick six-speed manual gearbox. Though the current-generation car is up on power, standstill to 62mph still comes in a respectable 6.9sec, with top speed coming at 139mph. It comes with a chassis to match, too, with engaging dynamics making it one of the best of its kind.
> Ford Fiesta ST Mk7 review (2013-2017) – ride and handling
The interior is a little lacklustre, with a poor infotainment system and cheap materials knocking it down a notch. The seats, however, are more than supportive enough for the job. Despite its performance, fuel economy is one of the best you'll see in this class, and with the same practicality as a standard Fiesta, STs make for great daily drivers.
Just shy of £10,000 will get you a very good example with around 20,000 miles on the clock – if you're willing to put up with a well-used car, you can save yourself a few thousand pounds. Though it will push the price above the £10,000 mark, just under £12,000 could have the limited-run ST200 on your driveway, adding more power and various other tweaks to the package.