BMW teases new Zagato concept
BMW has teased another Zagato concept, which it will be unveiling at the Pebble Beach concours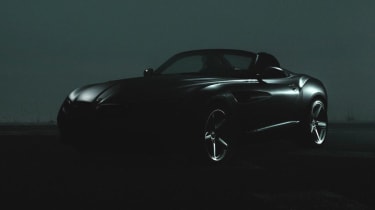 After it revealed the Zagato Coupe at the 2012 Villa d'Este concours, BMW has once again teamed up with the Italian Coachbuilder to create a one-off roadster that is due to be uncovered on 19 August.
BMW's teaser image shows what appears to be a roadster version of the Zagato Coupe, with distinctive rear haunches and similar proportions.
The new concept will be fully unveiled at this year's Pebble Beach Concours d'Elegance during the Monterey week celebrations on the East Coast of the USA.
The company will also be showcasing three other cars at the prestigious event; the 2013 7-Series, Alpina B7 and 6-Series Gran Coupe, as well as competing a 1975 BMW 3.5 CSL, 1986 BMW-March GTP and a 1980 BMW M1 Procar in the Monterey Motorsports Reunion at the Laguna Seca race circuit.