A BMW M2 CS, or a greater range of M Performance options for the M2 Competition?
A prototype M2 has been spotted sporting some new parts that might suggest an M2 CS is on the way
It hasn't been that long since BMW's M Division announced the significantly improved version of its smallest coupe, the M2 Competition. However, an even hotter M2 might be coming if these recent spy shots are anything to go by.
Spotted at the Nürburgring, this M2 features a selection of parts that hint at either a new, more focussed model in the mould of the recent BMW M3 and M4 CS – lighter, more powerful, grippier versions of the super saloon and coupe – or this car could be testing a more extensive range of in-house customisation parts for the M Performance range.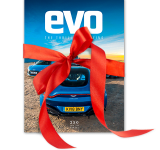 Subscribe to evo magazine
If you're passionate about the world's greatest performance cars, experience the thrill of driving with evo magazine. Try your first 5 issues for £5.
There are some significant alterations to this car when compared to a regular M2 Competition that might suggest this could be a CS with a lower kerb weight and even more power. Firstly, this car is wearing Michelin Pilot Sport Cup 2 tyres, the same rubber that the current CS cars run. The extra grip that these tyres offer over the standard M2 Competition's Michelin Super Sports might imply this car has more power that needs controlling – as the M2 Competition has the same basic engine as the M3 and M4, it wouldn't be too difficult for BMW M to boost its output from its standard 404bhp to the M3/4's 425bhp or even the CS's 454bhp.
More so than the extra power, the CS name tag donates a reduction in weight. The M4 CS features a greater number of carbonfibre panels and pared-back interior to shave off a few extra kilos, and this M2 looks as though it has many of the same tricks. This prototype car is fitted with carbon-ceramic brakes that aren't an option on the M2 Competition; the added cost being such a large proportion of the cost of the car that it's unlikely anyone would choose them. On a car that needs to reduce its weight, though, lighter brakes are an easy win.
Like the most recent CSs, this partly disguised car has a stepped rear spoiler stuck to the trailing edge of the boot. Less obvious are some of the other body modifications. The bonnet's shape has been altered, with an added bulge close to the base of the windscreen, and the roof has two ridges similar to the carbon roof on the bigger M-cars. In the road pictures, these panels look a different shade of white and edges of vinyl are visible suggesting this bodywork has been hastily covered up, possibly to disguise that they are made from carbon.
If this is an M2 CS, carbon body panels, carbon-ceramic brakes, boot spoiler and Cup 2 tyres would be in keeping with the attitude of the other CS cars. However, anyone thinking the extra bonnet bulge might mean that this car will be fitted with the extreme M4 GTS's water injection system and 493bhp engine are likely to be very disappointed.
But we could be getting ahead of ourselves. Many of these modifications could be to bolster the M Performance parts range, BMW's approved set of aftermarket-style improvements. The front spoiler on this prototype, although mostly covered in white vinyl, looks like the current M Performance front splitter for the M2 Competition and so do the black Y-spoke forged wheels – although they do also look a lot like the M3 and M4 CS's rims.
Creating an M2 CS would be an odd decision for BMW M to take. A more powerful, more focussed version would put it in direct competition with the BMW M4, even though it's a little smaller. Arguably, there's a stronger case for a truly hardcore GTS-style M2, that's significantly different from the rest of the M-car range. Still, whether these are just new optional parts for BMW M's smallest car or a new CS, we'll be happy to see an even sharper M2 on the market.
> What is 562bhp like in a 2-series body? Read our review of the AC Schnitzer ACL2