Five grand doesn't buy you much on the new car market – in fact, it doesn't even buy you a Dacia – but it can go a lot further than you think when it comes to buying a performance car, from used super-saloons to proper sports cars, hot hatchbacks and sports saloons.
We have depreciation to thank for that – a depressing fact of life for new car buyers (unless you put your name down on the list for something like a 911R) but a gift from the gods if your budget is a little lower, dragging down some hugely desirable cars as they're superseded or rendered obsolete.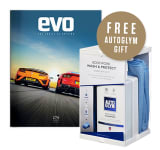 Subscribe to evo magazine
Subscribe today to our exclusive new offer and SAVE 39% on the shop price, get evo for its original cover price of £3.00 an issue, plus get a FREE gift worth £20!
> Best cars to buy for £10,000
The choices below are the individual selections of the evo staff, and very much not an evo-recommended list of cars you should actually buy. Though you'd be crazy to miss out on some of these, and you could in theory buy all of them for the price of an optioned-up Volkswagen Golf R...
> Best cars to buy for £15,000 
Obviously when buying any used car you want to make absolutely sure you do as much research as possible beforehand. But this far down the food chain, be extra vigilant. We've made a few suggestions with each vehicle as for what to watch out for.
Nissan 350Z - Stuart Gallagher
Five grand is a decent wedge of cash for an evo car, isn't it? I thought it was, until I started looking and was greeted with a page of five-cylinder Focus STs, Astra – and Zafira – VXRs and BMW Z4s with engines a couple of cylinders short of being interesting. Worthy evo cars one and all, but hardly the stuff of blood pumping excitement.
Frustratingly if you look just above our self-imposed £5,000 limit there is more variety to stimulate the imagination. Good Boxster Ss are around this mark and if the ad description is to be believed the IMS and RMS are both likely to have been replaced. Boxsters below £5k tend to wear suspicious body kits, wheels originally fitted to a 911 and a service history described as "good". If you want a classic Porsche you could try an 8-valve 944 but the words "unfinished project" don't fill me with confidence, neither do the aftermarket body kits that many wear at this price point and have the appearance of straining to cover the filler holding the side sills in place.
This aimless searching led me, first, to the sole Subaru Impreza RB5 for sale that didn't cost a trillion quid at a retro car specialist, which probably explained why it had sold. Looked reasonable at £4,995, too, even with 120,000 miles on the clock. Then I settled on Nissan's 350Z. Lusty 3.5-litre V6, rear-wheel drive, looks that have stood the test of time remarkably well and its rough-around-the-edges character appeals so much more than the near perfectly mannered Mk5 Golf GTi that costs similar money.
For £500 under our budget you'll find imported examples with around 100,000 miles and for a similar amount over budget UK cars with similar mileage. GT Packs are common and the 276bhp V6 is still considered bombproof from a mechanical point of view. Clutches need replacing every 40,000 miles but this aside rear-drive, six-cylinder coupe action doesn't come much more affordable.
The 1525kg kerb weight restricts its 0-60mph time to 5.9secs and the 350Z was limited to 155mph, but it's still plenty quick enough on road and track when you get into the meat of the V6's 268lb ft of torque. Where once BMW's E30 325i was the entry point of choice for cheap rear-drive thrills, today I give you the 350Z.
Renault Sport Mégane 230 F1 Team R26 - Ian Eveleigh
An evo-approved car for £5000? Look no further than an RS Mégane. For this budget you can get one of the very best, too: the convolutedly named Renault Sport Mégane 230 F1 Team R26.
Built to celebrate Renault's success in the 2005 Formula 1 drivers' and constructors' championships, it is also the car that spawned the 'front-wheel-drive GT3 RS', the Mégane R26.R. The standard R26 may not be quite as special as the roll-caged, plastic-windowed and radio-less .R, but it does have the benefits of, well, glass windows, a radio and some rear seats – and, for that matter, sensible front seats, a passenger airbag, headlamp washers, front fog lights, a rear wiper and some soundproofing.
You could almost call it a 'front-wheel-drive GT3-lite', then, except it's 125kg heavier than the track-focused limited edition. But it does have the same 227bhp engine and limited-slip differential, plus two more ingredients that feature on some of the very best Renault Sport models: a Cup chassis and a smattering of stickers. The former is further honed beyond that on the F1 Team's 225 Cup forerunner, while the latter may not be present if the person who originally bought the car was daft enough to delete them.
Prices start at around £4k for an R26 with 65,000-85,000 miles on the clock, but don't let that mileage put you off, as these things are hardier than the clichés about French build quality might lead you to believe. See our comprehensive buying guide in evo issue 208 for confirmation of that, and for more info on what to look out for.
Peugeot 106 Rallye - Adam Towler
Five grand always seems like a reasonable chunk of cash for buying an old performance car, but then you start looking at the classifieds and realise that the so-called classic car boom has removed vast swathes of our motoring landscape from this price bracket. It also means that some of the classic hot hatches from yesteryear have suddenly risen to this particular point, which is another way of saying that I'm really surprised to be writing this piece on a Peugeot 106 Rallye.
Don't get me wrong, I love – no, make that adore – the 106 Rallye, and its 306-shelled big brother, too, but five grand? Wow. When did that happen?
106 Rallyes had been pocket change for years, and therein lies part of the problem with buying one now. First of all, you really want to find one that's as original as possible. These may be low powered cars, and cheap when new – the Series 1 was just £8995 back in the day – but they're very rare and actually very special. Just over 1000 S1s came into the UK, and only 500 S2s, and many have been written off, turned into competition cars, modified hideously or rotted away, so this isn't going to be an easy purchase. Finding the right bits if you need to de-modify a car isn't going to be cheap.
Which one to go for? Personally, I'm always attracted to the original, partly because I owned one many years ago, and partly because it's that bit more distanced from the regular 106 than the S2. The unique little 1294cc single cam 'four' revs to 7400rpm, producing 100bhp and just 80lb ft of torque, and was chosen to enable the car to fit into the right category for international rallying. In fact, there's a homologation plate under the bonnet, just one of the many hardcore features about these cars. Others would be gearing so short the car pulls over 4,000rpm at the legal motorway limit, lightweight Michelin steel wheels, unique wheel arch extensions, oil temp and level gauge, and a non-airbag steering wheel. Rarely, too, have stripes looked so good on a car.
So while 0-60mph in 9.6 seconds sounds feeble in today's currency, with just 825kg to lug around there's never a dull moment, especially when the road turns twisty. Series 2 cars benefit from a larger – less peaky – 1.6-litre engine with 103bhp, and disc brakes on the rear axle, unlike the S1's drums.
The biggest issue, after finding a car with its original engine and 'box, is rust: there are many corrosion hot spots, and it can easily write a 106 off that looks respectable on the outside. Watch for tired suspension and oil leaks, too. In fact, beware of just about everything. It'll all be so worth it though.
Alfa Romeo GTV - Antony Ingram
I'm always slightly sceptical of claims (mostly prompted by the latest and surprisingly talented Giulia) that Alfa Romeo hasn't made a decent car in decades. How short our memories are; most of the press were rather complimentary of the "916" Alfa Romeo GTV when it was new – we even included one in the very first evo Car of the year test, and while it didn't finish at the top end of the board, nor was it disgraced. And that was when you had to pay £20k-£30k for one; at a quarter of that or less it's very appealing indeed.
What do you get for your £5k? That depends on how brave you are. The most wonderful GTVs are undoubtedly those with the fizzing 3-litre V6, but the very best examples of these are now commanding a little (to a lot) more than our budget. Five grand is still more than enough for an enthusiast-owned, meticulously maintained 2-litre Twin Spark (TS) however, and all are as striking today as the day they rolled out of Arese.
They were also among the first Alfas in years to take a significant step up in build quality and reliability. Problems can still strike; most notably, four-cylinder cars need religious cambelt and water pump changes at 36,000 miles, to avoid courting disaster. V6s could do with earlier changes than the quoted 72k too, and it's a £500+ job on those. TS units can also use oil, so regular checks are wise. Front and rear suspension wishbones can cause problems too, but are improved by using uprated bushes.
Rust on the other hand is rare (rarer than it is on many of the Alfa's contemporary rivals, in fact), while interiors generally wear well. The chassis won't feel as impressive now as it did back in the mid-90s, but lively steering and responsive engines mean there's much more to the GTV than the usual Alfa tropes of "character" and "soul".
Toyota Altezza RS200 - Will Beaumont
The RS200 fits a lot of my criteria: A saloon car body, rear-wheel drive, and a punchy four-cylinder engine. Never officially sold in the UK, there are still plenty of imports on the market. And in true Toyota style there really aren't many major known mechanical issues with the Altezza. The engine and drivetrain are very durable, but poorly looked-after cars do rust.
You will struggle to find a standard RS200, as many have been turned into drift cars with stripped-out interiors and badly installed 'hydro' handbrakes. I wouldn't be put off by a few modifications though, because even though the RS200's all-double-wishbone suspension means it has great poise and balance as standard, you'd probably put a set of coilovers and Rays alloys on it anyway.
Thankfully most remain mechanically standard even if the suspension isn't. And why wouldn't you, when the standard 16-valve 2-litre 3SGE 'BEAMS' engine, fettled by Yamaha, produces 207bhp (over 100bhp per litre) and revs to 8000rpm? The automatic gearbox is worth avoiding - even if it includes wheel-mounted shifters - in favour of the slick-shifting manual. As an added benefit, most of the manual cars come with a Torsen limited slip differential, too.
Mercedes-Benz C36 AMG - Tom Wiltshire
This isn't necessarily the most desirable performance Merc of this era – but with prices for the 190 Cosworth skyrocketing, it's only a matter of time before the C36 does the same and becomes unattainable as a bargain buy.
A 276bhp straight-six engine gave the C36 performance that's admirable even today – how does a six-second 0-60mph sprint and a (limited) top speed of 155mph sound? Driver involvement was somewhat lacking thanks to the absence of a manual gearbox option, but Mercedes' 4G-TRONIC and later 5G-TRONIC automatics are bulletproof if cared for. There's also something to be said for the car's relaxed nature when you ease off the speed – absolutely fitting for a Mercedes.
Look through the classifieds and you'll find a few examples creeping up into five figures and beyond, but £5k should buy you a well-looked-after model without too astronomical a mileage.
Check carefully for rust – C-classes of this era are about as corrosion-resistant as 1970s Alfas and the front wings are especially fragile – and take it for a careful test drive before buying. Worn-out suspension bushings and ball joints are often the culprit for poor handling. ECUs are known to fail, too, and while secondhand units are reasonably priced they will need reprogramming at a Mercedes dealer.
Subaru Legacy 3.0R Spec B - Jordan Katsianis
Want an Audi RS6, but can't even afford the £5675 Daytona Grey matt paint option? The Subaru Legacy 3.0R Spec B could just be your perfect cut-price fast family wagon. It may seem like a bit of a bland family bus, but it's the "Spec B" bit that is important here.
For the Spec B upgrade, Subaru Tecnica International had a hand in the development of the chassis, installing Bilstein springs and dampers, fettled steering and fitting an STI-sourced six-speed manual gearbox. That right there is the crucial point for the evo driver, as the standard 3.0R with an auto gearbox is a bit of a pudding to drive, but when in manual Spec B trim, the car takes on a whole new character.
The manual gearbox has very short gearing, keeping the engine on the more aggressive timing profile when you're on it. The engine is not as peaky as something like a Honda VTEC unit, but it's a rewarding engine to rev right to the 7000rpm redline. The chassis is the perfect companion. Driven with ham-fisted inputs the Legacy will still understeer like many Subarus at the limit, but keep the nose keyed into the road surface and the chassis' neutral stance will start to shine through, especially in the wet.
Around £5k will get you a clean and low mileage example. Unsurprisingly the car is built like a tank, but the flat-six does require consistent TLC so make sure the service history is extensive.
Volkswagen Golf GTI MkV - James Disdale
So, how do we view the £5000 burning a hole in our wallet? Some will see it as disposable income, but for others like me this amount will have to cover all their automotive needs. That means everything from the school run to the odd back road blast. It doesn't take long trawling the classifieds before you realise there's one model you keep coming back to - the MkV VW Golf GTI.
I know, I know; I can hear the cries of 'boring' from here, but bear with me, because this evolution of the hot hatch pioneer is arguably the used performance car bargain of the decade.
There's no denying it looks great, with an understated sophistication and solid stance that are topped off with a subtle slice of red pin-striped perfection. Inside, all bases are covered, with a low set driving position and figure-hugging tartan seats that manage to be both tasteful and tacky. It's spacious, too, and has all the mod cons.
At its heart is the unburstable EA113 2.0-litre turbo, which is fairly unstressed in the GTI. However, don't confuse unstressed with underwhelming, because like all the best rapid VWs, this one gets better with age. Not only does it pull harder and sound rortier, it actually gets more efficient, with 40mpg easily within reach. Yet it will still crack 62mph in 7.2 seconds and bounce off the 155mph limiter.
The ride is firm but never uncomfortable, mechanical commotion is kept to a minimum and the light controls make it as easy to live with as 2.0 TDI SE. Yet up the pace and the Golf reveals its sporty side.
Push harder into corners, load up the suspension and the GTI comes alive. The slick steering becomes chatty and the multi-link rear axle boosts agility and delivers impressive balance. Better still, there's an adjustability to the handling that's missing from the laser-guided, nailed-to-the-rails approach of the latest versions. The engine adds to the fun. You'll be used to the low down torque and mid-range muscle, but the four-cylinder also has an appetite for revs and emits a characterful rasp from its twin exhausts. There's real fun to be had here.
Yet these big thrills don't come with large bills, because the GTI is as affordable to run as it is to buy. This is partly down to inherent toughness and partly down to the fact many are well cared for, because the GTI is a car bought by accountants, solicitors and doctors; grown-up owners with grown-up salaries and an eye for detail.