Here's a great game for any evo reader to play – from a source of heated discussions in the pub to effective anaesthesia on a gridlocked M25, or the antidote to an interminable wait at an airport gate. It's even better if you have the cash to spend for real – yours, or a finance provider's, of course. Quite simply, you have £50,000 – and not a penny more – to spend on three typically evo cars. Although there's nothing to say you can't skew your selection dramatically towards one particular car, there can be no cheating on the numbers. It also has to be three working cars – not a Ferrari and two moss- festooned fifty-quid sheds.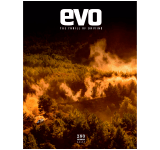 Subscribe to evo magazine
Subscribe today to have every issue of evo delivered straight to you. You'll SAVE 39% on the shop price, and get evo for its original cover price for a whole year!
In fact, all of your trio have to be 'decent' examples or better. So while it may still be possible to buy a Ferrari F355 for £35,000, the fact that it has caught fire in the past and the flying buttresses have dissolved into ferrous oxide essentially classes this sort of behaviour as cheating. Other rules? While there's nothing to stop you selecting three sports cars or rally homologation specials, the game does become rather monotonous if you do.
The first point to ponder is whether your trio needs a daily driver. For most, the answer – even hypothetically – will be 'yes', if not for financial reasons then for matters of garage space. If it's just three cars in a 'collection', the question does become a bit easier. Whichever way you view it, you'll need to make your money work quite hard to get the lot to come in at under £50,000.
A hot hatch is a great staple for any collection. We prefer not to get too caught up in the world of investment, but given this is evo Market, it'd be remiss to not at least cover that point, and there are plenty of opportunities in this segment alone.
A Renault Sport Clio 182 Trophy or a sensible-mileage Mk1 Ford Focus RS remain attractive places to put your money and very exciting cars to drive at the same time. Nevertheless, if you want to maximise funds elsewhere but still want something that's going to bring a big grin to your face, it has to be an earlier Renault Sport Clio. With 172s currently available for a grand upwards, there is no greater bargain in the market at the moment. The 172 tends to be overlooked for the later 182 models, but both are brilliant hot hatches in the classic mould yet relatively cheap and easy to run.
You can't say that of the real hot hatch classics: cars such as Peugeot 205 GTIs and the Clio Williams vary wildly in price, but usually something at £5000 or less will require significant expenditure to turn it into a car you're actually going to enjoy driving – and that's hard to put an exact figure on up front.
What of larger hot hatches? The idea of a Renault Sport Mégane R26.R always tempts, but that'll take a £20,000 bite out of the pot. Regular R26s, meanwhile, are around £6000, and good ones may not get any cheaper. Alternatively, a Mk5 VW Golf GTI from £4000 makes a very practical but still enjoyable daily-drive hot hatch.
BMW M Power machinery is another obvious inclusion, with almost too much choice. Some options, such as the E92 M3s, cover both daily driver and weekend fun bases. Yet while there's a wide and varied choice of M3s and M5s to be had, sadly even a non-Evo E30 M3 won't leave that much change out of our total amount these days.
Fast saloon – and estate – alternatives from AMG and quattro GmbH are also mightily tempting: the B7 Audi RS4 wagon featured in our recent '£20k Heroes' issue (evo 231) reminded us what a brilliant car this can be, and the B5 RS4 is an emerging classic, although there are still a few bargains occasionally cropping up in the classifieds.
When it comes to sports cars there are almost endless options, but any Boxster is a staple in this price range, while a BMW Z4 M makes an interesting – if flawed – alternative. There's also a broad range of 911s temptingly available, with everything from a leggy gen-one 996 Carrera 4 at £12,000 to higher-mileage gen-two 997s if you're prepared to minimise the expenditure on the other two cars. Or if you want something more raw, how about a Lotus Elise 111R in the high teens, or a nearly new Caterham?
Then there are the Japanese staples: most Subaru Imprezas (outside the specials, such as the P1) are currently very affordable, and a regular Evo V or VI at around £10,000 looks like a tempting option, as does a Tommi Mäkinen Edition Evo VI for a few grand more.
Summary
On paper it seems deceptively easy, but this is one conundrum with almost infinite permutations and no right or wrong answer. Personally, I'd keep at least half an eye on future values. That's not so much because of a deep desire to make money – if that's the case the car selection process is dangerously twisted away from driving enjoyment. However, it's nice to protect one's self from depreciation. So I'd go for a classic hot hatch, some kind of 'affordable' water-cooled Porsche, and then maybe an Evo Mäkinen. Or a nice E39 BMW M5. Or maybe an Elise, because a proper sports car would be good to have. Oh... more thought required, then. 
Expert view
Dan Prosser
They say great minds think alike, but on the evidence of this challenge, slightly dim minds think alike, too. The three cars I've made space for in my fantasy £50,000 garage have already been mentioned by Adam above. A little annoying, but I won't let it sway me.
I toyed with the idea of dumping the bulk of my budget on an early Audi R8, but there wouldn't be much left over for the remaining two cars. So I've tried to be pragmatic with my final selection, choosing three cars that I could see myself buying and enjoying, rather than simply picking one tasty car and filling the rest of the garage with tat.
Yes, I know, a 997 Porsche 911 Carrera is horribly predictable, but every time I see one on the road I find myself pining for it. I think they grow prettier with every passing year and I adore the compact footprint. And I've sampled enough to know they're wonderful to drive.
> Porsche 911 Carrera T review
I'd spend around £27,000 on one, which would afford a 2006 car with under 60,000 miles. You can pick up a Carrera S for that money, but I'd be more concerned about the car's history and condition than whether it's the more powerful version.
I'd want the 911 to be my weekend car, rather than my daily. The car I'd use to hack up and down motorways in would be a VW Golf GTI Mk5. I have a real weakness for this car, so it would be much more than just a tool to me. Around £7000 would buy a decent example.
Finally, I'd drop £16,000 on a Mitsubishi Evo VI. You can just about pick up a Tommi Mäkinen Edition for that, but a standard car would do me just fine. I love how supple and playful this generation of Evo feels out on the open road. It would leave me with two weekend cars, but I rather like the idea of having a couple of toys to choose from.
The Golf would certainly shed a few quid, but I doubt the 911 or Evo would lose much with moderate use. That's just a bonus, though; I've chosen these cars on the way they drive.