Caterham, Surrey; the brand's spiritual home 
We cruise into Caterham, but there's not much to see. The site of the old factory, and latterly showroom, disappeared a few years ago to be replaced by a block of retirement flats – a sad sight considering this is where the Seven's development really took off.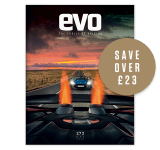 Subscribe to evo magazine
Subscribe today to have every issue of evo delivered straight to you. You'll SAVE 39% on the shop price, and get evo for its original cover price for a whole year!
The engine choice was originally dominated by Ford units, with 1.3-, 1.6- and 1.7-litre versions of the venerable Kent available. At the top of the tree was the Big Valve Twin Cam from Lotus, which initially produced 126bhp, but when supplies of this dried up, the Cosworth BDR was used. Other innovations included the adoption of a longer chassis for a less cramped driving position and a left-hand-drive model. But it was the fitment of the more sophisticated De Dion rear axle in 1985 that proved to be one of Caterham's biggest achievements, improving both the handling and ride.
The model's increased popularity meant its itinerant production history wasn't over yet. With a capacity for just 250 cars a year and a lengthy waiting list, the Caterham factory had reached the end of its useful life, so in 1987 Nearn secured a new production site in Dartford, Kent, where the cars are still built to this day.
We jump back in our cars for the short sprint to the factory and arrive outside a nondescript low-rise building. Inside it's a hive of vibrant activity, with numerous Sevens in various states of build – from bare chassis to cars ready for road tests. It's a world away from the clinical environments of most car plants, but the organised chaos is part of the charm. And with a production capacity more than double that of the old site, it allowed further development of the Seven.
One of the big hits was the arrival in 1990 of the 2-litre 16-valve Vauxhall unit, which replaced the venerable Cosworth BDR. This engine eventually formed the basis of the 1992 Jonathan Palmer Evolution (JPE) edition, which packed 247bhp, heavily reworked suspension and a mandatory driving course. In the same year, the fuel-injected Rover K-series models took their bow, opening the Caterham up to more global markets. A few years later the firm launched its own six-speed gearbox, while in 2000 the wide-bodied Series 5 arrived.
In 2005 the CSR was revealed. It looked like a standard car, but it packed a double-wishbone rear axle, inboard front suspension and had a bigger cabin. It was more sophisticated to drive, too, but lacked the original's ultimate charm and was quietly dropped last year.
In 2006, Ford's Sigma and Duratec units came on stream, boosting the Seven's popularity even more and pushing the factory to the limit. Today, the company has a bulging order book of around 600 cars a year, with the capacity to build 500 (although bosses reckon this can be upped to around 575 in a year or so), and it turned over £20million last year. And it's all down to one car that has defied time to become even more relevant today than when it was launched 60 years ago.
As we clamber back into our Sevens at the end of an exhausting and exhilarating quest, it doesn't take a massive leap of imagination to picture the Seven still going strong in another six decades. Roll on 2077.