This, I promise you, is a new car. It might look bit like a prop from Dixon of Dock Green, but this is the latest Caterham, the Seven Sprint.
Built to commemorate 60 years since the Lotus Seven was first launched, the Sprint has been built to look like a Series 2 Seven. That means the neat front mudguards that you see on modern Caterhams have been replaced by these long fenders and the chassis and suspension components are now powdercoated grey rather than black. The Sprint is only available in colours offered by British car manufactures in 1966 and '67, and include Mellow Yellow, Regency Red, Camberwick Green, British Racing Green and Misty Blue. Inside, the seats are trimmed in red leather and there's a larger, wood-rimmed Moto Lita steering wheel. To top it off, the Sprint has more than its allowance of chrome and retro badges.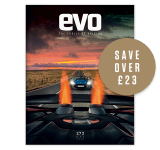 Subscribe to evo magazine
Subscribe today to have every issue of evo delivered straight to you. You'll SAVE 39% on the shop price, and get evo for its original cover price for a whole year!
Technical highlights?
The Sprint is based on the Caterham Seven 160, so identifying a technical highlight is nigh-on impossible; this is a car with a solid beam axle and rear drum brakes. The rear suspension could be less sophisticated, we suppose - rather than be allowed to move excessively from side to side, the live axle is located by a panhard rod and it is suspended by coil springs, not leaf springs.
But you don't buy a Caterham because it's at the forefront of technology. It doesn't matter if they're mechanically simple; they are often far greater than the sum of their parts.
Engine, transmission and 0-60 time
The Caterham Sprint is powered by a 660cc three-cylinder turbocharged Suzuki engine. That might sound too modern for the retro Sprint, but the Suzuki unit does its best to emulate an ancient motor. Don't think for a minute that the small capacity translates to a screaming, low inertia, free revving engine - far from it. It takes an age for the revs to rise all the way to its 7700rpm limit and while doing so it makes a dreadful, industrial noise. As in all Caterhams though, the wind noise is so great (whether the roof is on or off) that the racket the engine makes is quickly drowned out.
The only time you're reminded that it's a modern engine is when you let off the throttle and the turbos chirp and flutter. It's a noise you'd expect from a highly modified Supra, not from something that feels like you borrowed it from Toad of Toad Hall.
The gearbox brings things back to 1966. The shift, although short, is notchy and obstructive, especially when changing down. To successfully select a lower gear, you really need to match your revs to the road speed. The pedals are conveniently located for an effective heel-and-toe manoeuvre, but the engine's poor response means that revs don't rise enough with just a small blip of the throttle and you often miss gear changes.
As unpleasant as the drivetrain is to operate, it does its job well enough. Even though the little three cylinder has only 490kg to push, it feels more powerful than its quoted 80bhp and will accelerate from 0-60mph in 6.5sec. With 79lb ft of torque it will easily spin the narrow 155-section rear tyres too. 
What's it like to drive? 
If we've sounded negative about the Sprint so far, then that isn't to say it isn't still a colossal amount of fun. Okay, so it doesn't cope well on rough roads, as the rear end hops around. And as you're sat right over the rear axle, the bigger bumps can fire you out of your seat. But its low-grip, predictable chassis and diminutive size combine to create a delicate, immersive and entertaining drive.
The stiff suspension may not be great over bumps, but it does keep roll to a minimum. Instead of leaning on its suspension, the tyres deform in corners and grip slowly, but predictably, bleeds away. The Sprint is best driven just beyond its limits of grip, which thanks to incredibly detailed steering and hardly any slack in the chassis, is far less brave than it sounds.
Driving the Sprint is about maintaining pace, and so you barely need the brakes on the road. Turn in aggressively and you scrub-off speed as the rear axle slides wide. A touch of throttle and a degree of opposite lock helps neutralise any oversteer rather than fully correcting it. You then unwind the steering as you approach the apex, and if you've judged it well, you'll be pointing straight towards the exit of the corner. It's incredibly satisfying when you get right, and because of the Sprint's tiny proportions its possible to do on almost any corner. Get it wrong and your speed is generally so slow there's plenty of time to make corrections.
In really tight bends the Sprint doesn't feel as rewarding. Despite the small amount of power, the lack of limited slip differential means the inside rear wheel will spin up as you accelerate. However, this is only very rarely a problem as the Sprint's narrow width means that you can use the whole of the road to expand curves that would ordinarily seem tight in other cars.
The Sprint shares all these attributes with the regular 160, though. One important thing they don't share is the steering wheel. The 160 uses the 260mm Momo steering wheel that's in all modern Caterhams, while the Sprint's wooden wheel is 330mm in diameter.
The bigger steering wheel doesn't change the way the Caterham steers. It's still so quick and precise that just looking where you want to go causes you to move the wheel enough to change your direction. However, as your hands are further apart so are your elbows, and it puts them frustratingly close to the body and transmission tunnel. Space is at a premium in any Caterham, and trying to move limbs past the obstructions in the cabin usually results in minor bruising. The Sprint's wider steering wheel just increases the amount of times they collide. The big steering wheel doesn't ruin the experience by any means; it just makes it slightly more painful to drive.
Price and rivals
The Sprint is a limited edition model and only 60 cars have been built. Each one cost £27,995, £8500 more than a factory-built 160, but all of the Sprints have now sold out.
Amazingly for such a niche car, the Sprint does have a close rival. Morgan's 3 Wheeler has an old-fashioned feel similar to the Sprint; it's a similar price, has only 2bhp more and, although it weighs more, can reach 60mph half a second quicker.
If you want something actually old, but with a more modern drivetrain, then you can buy successfully re-engineered classic cars. Frontline Developments' MGB-based MG LE50 costs from £57,900 but is amazingly refined and huge amounts of fun. Alfaholics does a similar but even more comprehensive job on a 105 series Alfa Romeo. Its GTA-R 270 weighs only 835kg thanks to carbonfibre bodywork and its Twin Spark engine produces 222bhp. It may well be achingly beautiful, but it does cost £198,000.
> Click here to read our review of the Frontline Developments MGB Roadster