Strip a car back to all the essential components needed to create a great drivers' car, and you'll probably end up with something that resembles a Caterham Seven. Reduce it further, boil it down to just the elements only the most dedicated driving enthusiast might need, and what you end up with will, probably, look a lot like this: the Caterham Seven SuperSprint.
Not identical, though, the most basic Caterham certainly doesn't need brown leather seats, a crafted aluminium cut-off switch, period decals, a Sebring-style fuel filler cap and round chrome mirrors. Yet, all these race-inspired details have been finished to perfection and give the SuperSprint a real quality feel and make it something to desire as well as drive.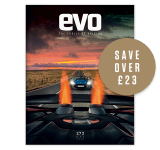 Subscribe to evo magazine
Subscribe today to have every issue of evo delivered straight to you. You'll SAVE 39% on the shop price, and get evo for its original cover price for a whole year!
> Get to know the history of the Seven and how it evolved from a Lotus to a Caterham
It comes in six different colours, each with contrasting decals, roundels, stripes or nosebands. Each combination is named after a race circuit, the light green and black of our test car is called Zandvoort. The SuperSprint's look is well-judged in a way the Union Jacks and red interior on the retro Sprint from last year wasn't, quite. 
Technical highlights
You won't find adaptive dampers, e-diffs, variable anti-roll bars and 48-volt subsystems here. And you won't find much in the way of driver assistance systems either, the SuperSprint doesn't have power steering, traction control, anti-lock brakes or even servo assistance on the brakes. Caterham, thankfully, doesn't give you the full vintage experience and the SuperSprint looks after its own air and fuel mixture, and ignition advance.
As with all Sevens, the SuperSprint has a double-wishbone front suspension, but like older vintage models, or the current low-powered 160, it has a solid beam rear axle. Caterham has reworked the chassis, however, giving the SuperSprint race-spec dampers with adjustable spring platforms and an A-frame support for the rear axle to help location. To improve things further, Caterham has installed a limited-slip diff, too.
Engine, transmission and 0-60
Under a thin, curved sheet of aluminium sits a Suzuki-sourced 660cc three-cylinder turbocharged engine. It's the same unit that powers the Caterham 160 and last year's retro styled Sprint. However, if you're a Seven connoisseur, you know that SuperSprint – or SS – usually means more power, and this car is no different. Rather than the 80bhp and 79lb ft the 160 and Sprint's engine makes, the SuperSprint's unit puts out 95bhp and 82lb ft of torque. A power increase of just 15bhp might not seem like a lot, but that's almost 19 per cent more power. That'd be like taking a McLaren 720S from 710bhp to almost 850bhp, comparatively quite a significant leap. Drive is then sent to the rear axle via a five-speed manual gearbox.
> Read our review of the Caterham Seven Sprint
Despite the extra performance, as well the added traction of the limited slip diff and retuned suspension, Caterham doesn't quote a faster 0-60-mph time for the SuperSprint compared to the 160. Instead, both cars reach 60mph in 6.9sec.
What's it like to drive?
Before you can experience any of the delights the SuperSprint's chassis and engine may have to offer, you have to overcome how vulnerable you feel behind the pared-back Seven. With no doors and some measly semi-cirlces of glass as a windscreen, you feel extremely exposed to the environment. Add the car's incredibly tiny size and begin you drive very defensively, almost as if you were on a motorbike, assuming every car won't see you and could easily kill you if it hit you.
Every oncoming car is a potential hazard – you wince and brace in case it fires a stone directly at your head – and you leave acres of room between cars in front in case they drive over mud or worse, and spray it onto your face.
Another issue that's only a problem for the SuperSprint, and one you become keen to spot, are roads without hedges. This open tarmac might give you better vision up a road, but you're likely to be hit with a fierce side wind that will not only start to push the car around, but will batter another side of your head with cold, wet air. Well, if you drive it in February, as we did.
> Find out what the full Caterham range is like to drive
You can choose to have the SuperSprint with a full windscreen and roof, if you wish; something we'd recommend if you intend to drive it during winter. If such luxuries don't fit with your lightweight ethos then you could go the whole hog and completely do away with the passenger seat and leave only one small 'Brooklands' screen to shave off as many kilos from the SuperSprints 490kg kerb weight as possible.
Once you're comfortable in the SuperSprint, well, as comfortable as you can ever really be, the car's true brilliance begins to shine. The stiffer chassis does a far better job of keeping the SuperSprint in sequence with the road than the 160 and basic Sprint's does. So with confidence that the back axle won't try and fire you out of your seat, you can happy explore the SuperSprint's performance, of which there's plenty.
The extra 15bhp really propels the car along at a rate you'd think was inappropriate when your face isn't protected by anything other than a scarf, yet you feel happy to explore all of what the retro Caterham has to offer.
With noticeably better acceleration, particularly from below 3000rpm, the engine revs through its range far faster and feels much livelier than it does in the 160. This energy does mean you frequently hit its 7700rpm max revs, the gruff and coarse engine note pulsing as the engine bounces off its limiter and little chirps emanate from the turbo's wastegate.
Probably the SuperSprint's biggest weakness is its front axle grip; it's all too easy to turn in into a corner and overwhelm the front tyres. However, thanks to the cars small size, there's usually enough space on the road to allow the front wheels to gently push on as the car slows until they find grip and eventually turn the car.
If you're averse to understeer there's a better tactic to getting the SuperSprint around a corner. Rather than using the ample space on the road to let the front push wide, you induce some oversteer early in the corner with a well-timed flick of the steering. The back jinks wide, angling the car parallel with the next straight while a healthy dose of throttle keeps it pointing in your desired direction.
It's a method that works in the 160 and Sprint, too, but the SuperSprint's limited-slip diff means your exit is more stable and more predictable. You're able to control the angle of the slide more accurately with the steering and throttle without the inside rear wheel spinning up as it does on the 160, wasting away drive, and that lack of forward momentum eventually settling the car. With very little wasted drive your exits are far faster in the SuperSprint, but, more importantly, with more control it's even more enjoyable. Even in brisk weather, with cold rain lashing your face, it's huge amounts of fun.
Price and rivals
At £29,995 the SuperSprint doesn't seem like great value. That's the same sort of money as a factory-built 310R – the Seven that many people think hits the perfect balance between performance and fun – or about £10,000 more than a road-ready 160. £10,000 for an LSD, some race suspension and some bolt-on retro bits certainly seems like a lot. But that doesn't take into consideration that the SuperSprint is a limited edition model, only 60 will be built, and that it's such a joy to drive on the road – arguably more involving and entertaining than a proper, ballistic 420R even.
> Caterham Seven Donington Edition review – the best Caterham you can buy?
Away from the Caterham range, the only other real rival to the SuperSprint, unless you look at genuine classic cars, comes from Morgan. The 3 Wheeler is closest to the SuperSprint on price as it starts from £25,950 plus VAT; its driving characteristics are antiquated, even compared to the Caterham though. The 4/4 is closer in terms of behaviour, but it's another £9000 or so more expensive.