Caterham 7 Roadsport 150
More power for the 1.6-litre Sigma-powered Seven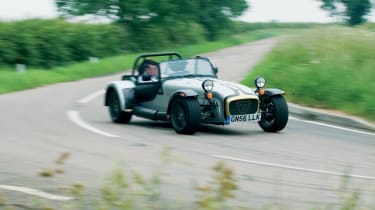 No, we haven't made a mistake. This isn't the car that featured in our recent Road and Track Car of the Year test (evo 105). It may look similar, but this Roadsport 150 is a very different beast to the Roadsport 125 we drove at that event.
As its name suggests, the 1.6-litre Sigma engine's power output is up 20 per cent in the 150, thanks to spikier cams. (Torque remains the same, but then 120lb ft is more than adequate in a car weighing just 550kg.) This much we do know. However, the rest of the 150's final specification was still undecided when we tried it, so what you see here is a Roadsport fitted with a generous sprinkling of Superlight options, including wide-track suspension, a six-speed gearbox and 15in anthracite alloys. Of course, as is the norm with all things Seven, every option on this car will be available, but a basic Roadsport 150, painted and fully built, will cost you £20,790.
Press the red starter button and, after clearing its throat, the 150 growls grumpily into life. It's immediately apparent that this Sigma unit is closer in character to the R400 than the 125. Blip the throttle and a hard-edged, racy bark fills your ears. Lift off and you're treated to a full chorus of pops and bangs reverberating from the exhaust running alongside your right thigh.
The 150 engine is not smooth like the 125, and currently there are flatspots above 5000rpm (following our comments the engine is being remapped), but it produces a very strong 150 horsepower, ripping through this car's six gears so quickly that you barely pause for breath before grabbing another cog. Throttle travel is short, giving the impression it's designed to be in one of two positions only: fully open or closed.
The Roadsport 150 certainly makes for a very intense drive; on a cross-country run your feet work faster than Michael Flatley on a hot tin roof. Which is exactly what the cockpit feels like after half an hour – heat soaks through the pedal box, burning the soles of your shoes. The final version will have more insulation.
It's a cramped car too, thanks to the heavily bolstered leather seats and the absence of a lowered floor. We know the composite Superlight seats are perfectly comfortable without upholstery, and you're better off with the lowered floor because it's only then that you feel hardwired into the controls – vital in a car that reacts so instantaneously to your bidding.
For us, the raw, energetic 150 engine better suits the road-racer philosophy of Superlight range than the more laid-back Roadsport ethos. It still needs a little work too. Another drive is promised soon – we'll let you know how we get on.
Specifications
| | |
| --- | --- |
| Engine | In-line 4-cyl, 1595cc, 16v |
| Max power | 150bhp @ 6900rpm |
| Max torque | 120lb ft @ 5600rpm |
| 0-60 | 5.0sec (claimed) |
| Top speed | 122mph (claimed) |
| On sale | Now |