What is it?
Caterham 620R (and its slightly softer sibling, the 620S) is the most potent and hardcore Seven yet to wear a set of number plates and a tax disc. The 620 range replaces the R500 and immediately outdoes it with an absurd 580bhp/ton power-to-weight ratio – 60bhp more than a Bugatti Veyron and 20bhp more than a McLaren F1. Prices start at £49,995.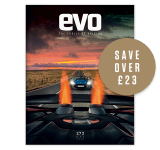 Subscribe to evo magazine
Subscribe today to have every issue of evo delivered straight to you. You'll SAVE 39% on the shop price, and get evo for its original cover price for a whole year!
Technical highlights?
This is the most extreme of a long and illustrious line of bonkers Sevens. Powered by a supercharged 2-litre Ford Duratec engine developing 311bhp and 219lb ft of torque. In keeping with its hardcore brief it also features a six-speed sequential transmission with flat-shift, so you can keep your right foot pinned as you pull through the gears. Wide-track front suspension, a De Dion rear axle and adjustable motorsport dampers all round provide the optimum chassis with which to make the most of that mouth-watering powertrain.
At first glance the 620R is just like any other Seven, but delightful geeky details abound. The nose cone features an extra intake, complete with an array of small, serrated, tooth-like fins along the opening's leading edge. A pair of dive planes mounted to the sides of the nose cone make an effort to reduce lift, while the wing-section wishbones reduce drag. Magnesium wheels wrapped with super-sticky 13in Avon ZZR rubber give the 620R the look and stance of a race car, as does the extreme camber angle of the front wheels. This particular car comes equipped with an aeroscreen, seats and interior panels in carbonfibre, so it's about as full-on as a Seven comes. That's perfect for track driving, but not so hospitable for road driving.
What's it like to drive?
Caterham claims it'll complete 0-60 in 2.79sec, and an impromptu experiment on a quiet country lane suggests this is a conservative figure. Traction is the limiting factor all the way through first gear, especially as there are no electronics to tame the wheelspin.
The suspension is perhaps a little too stiff for bumpier roads, but there's a level of compliance that rounds off the sharpest edges, so the wheels stay on the ground admirably well for such a flyweight car. The steering is physical, but at just 1.93 turns lock-to-lock, a roll of the wrists sees you round most corners. The sequential transmission demands positive inputs, but there's something totally addictive about the crack-crack-crack as you work up and down the 'box. It really gets you in the zone and the shifts come literally as fast as you can move your arm.
There's no denying that you can hit silly speeds at will, but because you reach them in the blink of an eye you can grab your fun in an opportunist manner denied to bigger, longer-striding cars like a Nissan GT-R or Porsche 911 GT3. And because the Seven is so small, you can enjoy it on a greater variety of roads, scribing a neat, smooth line on faster sweeping roads or slithering and sliding your way round tighter tangles of corners.
On track this is more physical than any other Seven I've driven. There's real heft to the steering, the sequential gearbox responds to fast, positive inputs, and the sheer grip generated by the barely treaded tyres seems to strain your neck muscles much harder than the Atom. It's a real workout.
The first few laps in the 620R tend to make you feel rather clumsy and well behind the potential of the car. Partly this is the sheer weight of the controls, but it's also the intimidation of the noise and acceleration, its keenness to oversteer everywhere, and the brakes, which I find tricky to modulate cleanly. You sort of wrestle it around: revs flaring clumsily on downshifts, wheels locking, corners negotiated in a series of half-spins and swearing. My God, it's fast, though. And loud. Crazily, frighteningly, gloriously loud. You don't hear the supercharger, just the angry, hard-edged howl of a highly tuned four-cylinder engine tearing up the air.
But with time, it all starts to make sense and the innate brilliance of the Seven shines through. You wonder when the chassis will cry enough and wilt under the ever more unlikely power outputs we've seen over the years, but 311bhp in a Caterham feels like the most natural thing in the world once you're dialled in. More power just gives more opportunity to feel the chassis' spectacular balance and adds even more excitement to the experience.
How does it compare?
You can compare the 620R to just about any road legal car at any price and it'll be faster accelerating and more thrilling. In the track car subset, the supercharged Ariel Atom 3.5 (310bhp, £38,000) and Radical SR3 SL (300bhp, £69,850) are its nearest, British manufactured rivals. The former offers a slightly more frenetic, mid-engined dynamic character while the latter is pure race car.
Anything else I need to know?
A 311bhp Caterham shouldn't really work, but the 620R makes you wonder how you'd cope with any less. All the Seven's qualities are not only retained, but magnified until it becomes an irresistible package. The 620R is our Track Car of the Year 2013 champion. It lapped Blyton Park quicker than the 720bhp Pagani Huayra…
Specifications
| | |
| --- | --- |
| Engine | In-line four-cyl, 1999cc, supercharged |
| Max power | 311bhp @ 7700rpm |
| Max torque | 219lb ft @ 7350rpm |
| 0-60 | 2.8sec (claimed) |
| Top speed | 155mph (claimed) |