In many ways, the Nio EP9 was just another impossibly low, wide, electrically powered supercar with mind-boggling acceleration. Until ten minutes past four on the afternoon of 12 May 2017, that is. At that precise moment, racing driver and Nürburgring specialist Peter Dumbreck embarked upon his fourth and final lap of the day at the Nordschleife, and six minutes and 45 seconds later had marked his – and Nio's – place in history with a new lap record for a non-series-production car. The time was beaten two months later by a McLaren P1 LM modified for road use but the one-million-megawatt car had achieved its aim of becoming the talk of the motoring world. 
'The EP9 was Martin Leach's brainchild: to make the ultimate car,' says Nio's head of performance programme, Gerry Hughes. An automotive luminary, Leach was vice-president of NextEV, the company behind the emergent Nio brand, but passed away in November. 'The EP9 is a no-compromise car, in terms of strength-to-weight and packaging,' adds Hughes.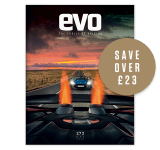 Subscribe to evo magazine
Subscribe today to have every issue of evo delivered straight to you. You'll SAVE 39% on the shop price, and get evo for its original cover price for a whole year!
> Click here for our current Masters of the Nurburgring list
Listening to Hughes talking about the incredibly complicated challenges behind the EP9 is like tuning into an alien dialect at times. Instead of turbo boost pressure and damper tech, there are power electronics, regen strategies and, perhaps most importantly, battery temperatures. 'It's all about energy management and thermal management. How much power you can draw from the batteries is the key to it,' says Hughes, whose aim is to stop the cells frying themselves to a crisp. The EP9 has two batteries, four electric motors, DRS capability and very large diffuser tunnels underneath the car.
Is the Nio EP9 a 'road car'?
While the EP9 is not currently road-legal (and Hughes is coy when asked about tyres, saying only that they were 'developed by our tyre partner to cope with the huge amounts of downforce load'), he does confirm that Nio is working with a third-party specialist to determine what's required to homologate the car for key markets. Six EP9s have been built so far, with a further ten currently in production.  
Dumbreck first drove the car at the Ring back in October 2017, completing four laps in what he describes as more of a shakedown session. In the run-up to May's record attempt, he spent two days at the Aragón circuit, in Spain, with the EP9. 'That allowed me to get comfortable in the car again,' he says. 'I was able to see what happens when you take the car to the limit and slightly over it, and that's important because, at a place like the Ring, there's no margin for error. You need to know what's going to happen.
> Click here for the cars we are most looking forward to drive in 2018
Nio EP9 Nurburgring lap record
'On the day, there's no chance to warm up and get my eye in. It's just line the car up and go. I was happy in the car, so then it's about how hard I can push in the edgy corners. From Flugplatz to Schwedenkreuz is flat in my [BMW M6] GT3 car, but it's quicker still in the Nio. I've got DRS deployed and I'm really honking along there. I was thinking, "Am I going to go flat over the rise? Yes, yes I am." You can see from the video that I'm putting in more steering inputs than I normally would.
'The closest reference is an LMP2 car. You'd never think about running one of those at the Ring – they're too stiff, too quick, have too much downforce. The EP9 is similar. It's too stiff for the bumps, it's got mammoth downforce – we almost need to get rid of some of that and work on the mechanical setup to go quicker. We've certainly not optimised it for the track: we raised the ride height, put a bit more rake in the car for more front end [grip] and worked on the tyre pressures, but there's not endless things you can change like with a GT3 car. The car's strength is immediate power with no hesitation for gearchanges, and the downforce in the smoother sections.'
Moreover, the lap was set with the EP9 running at nowhere near full power. Dumbreck believes he had around 900bhp at his disposal, not the full 1341bhp. 'When Lamborghini did their record attempt, they just filled the car with the petrol they thought they would need. With us it works the other way: we charge it 100 per cent and then work out how we can use the power.' To this end, the team simulated in advance how much power they could deploy while lasting the complete lap.
Even a pro like Dumbreck feels the pressure: 'I had the weight of a billion-dollar company on my shoulders, and I knew everyone wanted it so much. We only had one more lap left that day, and the data from lap three showed it was on. Suddenly I had all the pressure heaped on me because I'd proved it could be done. When I got onto the Döttinger-Höhe [the long straight at the end of the lap], I knew it was a good lap. We were hitting 174mph at Tiergarten and I said to myself, "Hold it together, keep it tidy, don't go on the grass." In hindsight, I bottled it by a tenth or two.'
Days later a McLaren P1 LM driven by Kenny Bräck took another two seconds off Dumbreck's time. But if Nio can find a 40-second improvement in the course of just eight laps, what's the betting Stefan Bellof's all-time record – a 6:11.13 set in race qualifying with a Porsche 956 in 1983 – isn't one day going to be under threat? 
Nio EP9: power, performance and specification
When the demands of lasting a sub-seven minute lap of the Nurburgring are relaxed and the batteries are allowed to deliver maximum power, the Nio EP9 has 1,341bhp at its disposal. That's equivalent to 1 Megawatt and comes accompanied by 1,091lb ft of torque.
To try and put the astronomical numbers in perspective of other performance cars, Nio quotes a 0-62mph time of 2.7s and claims that if you let the car loose over a standing quarter-mile drag race it will cross the line in 10.1s, doing around 155mph.
At the heart of the 777-volt powertrain are two indirectly water cooled lithium batteries hooked up to four electric motors. There's a motor to drive each wheel delivering all-wheel drive traction and giving the car a fighting chance of deploying its incredible power output. Nio says the batteries can be fully charged in 45 minutes for a 265-mile range but also that they're designed so that they can be swapped for new fully charged batteries in 8 minutes.
Despite its lightweight carbon monocoque chassis and carbon composite bodywork, the EP9 is heavy by the waif-like standards of conventionally-engined hypercars. It weighs 1,735kg, with the batteries accounting for 635kg of the total, so there's a penalty of almost 188kg compared to the McLaren P1 (1,547kg) and 480kg compared to the Ferrari LaFerrari (1,255kg).