'They may impress in some ways, but electric cars mostly leave Meaden cold'
Put simply, EVs don't live and breathe or require much in the way of effort or connection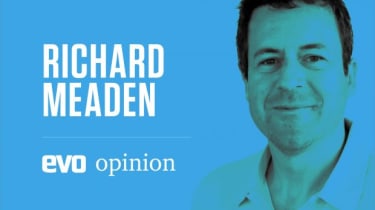 I'm having a bit of a crisis. Given I'm a bloke in my late-40s that's perhaps not a great surprise to anyone, except this is a crisis of a car-loving nature.
As can so often be the case these days, it was a flippant comment on Twitter that proved to be my undoing. It was centred on the Volkswagen ID R and sent in the midst of its demolition of the Goodwood Festival of Speed hill climb record. The nub of it was simple: the all-electric projectile might be pure as the driven snow, but between runs it was attached to a colossal diesel generator.
> Volkswagen ID R: everything you need to know
Of course, had I bothered to check I'd have known the generator was in fact powered by glycerine, which is a byproduct of biodiesel production and is extremely clean in terms of carbon, NOx and particulate emissions. It's the same tech as used by Formula E.
It was a stupid, ignorant, lazy comment. One I'd be quick to jump on, or at least quietly shake my head at, if someone had made the equivalent comment about an internal combustion car. Still, every day's a school day and all that. Aside from betraying my own ignorance, what my comment highlighted to me more than anyone was how I am becoming disconnected from a subject I've immersed myself in for more than 40 years.
Part of the reason I find myself retreating into the comfort of what I know is the fractious and ill-tempered 'conversation' that seems to define the pro- and anti-EV factions. The other reason, and the one that I find most distressing, is because I'm coming to the reluctant conclusion that I don't actually care about electric cars in much the same way I don't care about my mobile phone, laptop or television.
I don't really know where this leaves me personally or indeed professionally. I feel a bit bereft to be honest. I know I should be building my knowledge of EV technology and be able to reel off the specs as I have always done with internal-combustion cars. Likewise I know I should feel that hunger and urge to want to drive any and every EV car that comes to market. Sadly I just can't summon any genuine enthusiasm for either.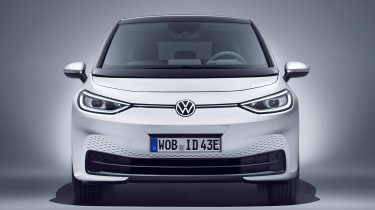 Taking a step back it seems to me that we are experiencing a complete reversal of things. Until now there have been those who have a very narrow view of cars as mundane but necessary modes of personal transport, and those who see cars and driving them as something life-affirming. I have spent my life 100 per cent in the latter group, but as the shift to EV begins in earnest I can see myself very much becoming one of the former.
I've known for some time that one of the main reasons for this is I find the EV experience cold and unemotional. Impressive too in its own way. I've driven and enjoyed Teslas, but once you've got over the seamless and abundant sense of near-silent acceleration, the act of driving is one dimensional. Put simply, EVs don't live and breathe or require much in the way of effort or connection – things that have held my attention since I first learned to drive.
In an unexpected way the VW ID R project has confirmed to me that my interest in the future of cars is slipping away. It's a remarkable machine. One that I'm sure isn't quite so benign to drive to its limits as it appears, and is clearly blessed with a surreal turn of speed. But. All VW is doing is scrumping the low-hanging fruit before anyone else gets there. Goodwood hill climb course? Just over a mile. Nürburgring Nordschleife? A little under 13 miles. Pikes Peak? Very similar distance, with the added bonus of thin air, which asphyxiates IC engines yet makes no difference to electric motors. All very impressive achievements in isolation, but when combined they somehow diminish the whole, proving the same point over and over again while glossing over how compromised and limited EV propulsion is in the wider motorsport world.
> New Porsche Taycan review - Stuttgart puts its stamp on the electric car era
Back in the day, when the automobile was referred to as the horseless carriage (doubtless to the dismay of avid horse enthusiasts), manufacturers subjected their new machines to truly arduous trials of reliability and endurance. Not only did these rapidly drive development and engineering advances, they proved how a car was infinitely more capable and dependable than a horse.
Fast-forward to 2019 and all car manufacturers are doing to market the wonders of their new EVs – or at least those that register on evo's radar – is chase pointless performance figures with multi-million-pound hypercars, or cherry-pick course and lap records that play to the potent but limited strengths of EV propulsion. Not only is this failing to distract me from the colossal infrastructural shortfalls that will surely hobble the widespread adoption of EVs for years to come, but it's actually turning me off cars altogether.
Whether I'm in a temporary funk or a long-term decline remains to be seen. Perhaps Porsche's Taycan offers a glimmer of hope? I certainly need something to restore my faith in the future.