Once you start getting up towards this end of the spending spectrum, there's a lot of really exciting cars on offer. In fact, £50k can open the door to true supercar territory, with Audi R8s and Ferraris creeping their way onto our best buy lists.
It can also open the door to properly expensive repair bills. Anything really fast in this list is going to require proper financial commitment to keep it running nicely. That said, modern fast cars are hugely reliable and our road test team hasn't picked out anything too old, so in all likelyhood any investment here will be fine.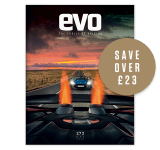 Subscribe to evo magazine
Subscribe today to have every issue of evo delivered straight to you. You'll SAVE 39% on the shop price, and get evo for its original cover price for a whole year!
We've done our best to flag the pitfalls of ownership wherever concerns typically arise. Take care of one of these machines though and you've got a driving experience that will never be forgotten
Audi R8 V8 manual coupe - Nick Trott
For some, the V8 R8 is actually the fast Audi to go for. It certainly sounds incredible and the free revving naturally-aspirated V8 has all the characteristics of an engine you'd expect to find in a supercar.
Then you have the beautiful gated shifter and the simple understated Audi interior that should've held up well, even with first gen R8s.
Right now around £45,000 will get you a 2007 used Audi R8 V8 with just 31000 miles on the clock. That means 414bhp from a 4.2-litre V8, full Quattro four-wheel drive and a 186mph top speed.
Read: Audi R8 review
As evo's Richard Meaden discovered when he ran a long term V10 R8 recently, one of the best things about it is how easy the car is to use every day. The R8, provided you don't have kids, could easily your only daily driver.
Thankfully the clutch and manual gearbox is pretty solid on the R8 V8. As is the engine itself, which has a very good reliability record. It absolutely needs to be fed oil properly though, using up about a litre every 1000 miles.
Service intervals are every two years or every 20,000 miles. It's imperative these have been stuck to and with plentiful used models regularly doing less than the 20k in two year period, make sure the R8 has been properly taken care of.
Read: Audi R8 V8 buyer's guide
One of the main lookout points for an R8 relates to the doors. Being extra long means they're succeptible to nicks and dents in car parks. You also need to look out for condensation in light lenses as that means damage and a £250 repair bill.
buy a used Audi R8 on Classic and Performance Car
| | |
| --- | --- |
| Engine | 4163cc, V8, naturally aspirated |
| Power | 430 bhp |
| Torque | 316 lb ft |
| 0-60mph | 4.8 sec |
| Top speed | 187 mph |
| MPG | 19 |
| On sale | 2008 - 2012 |
Porsche 911 (997) Turbo - Stuart Gallagher
The Porsche 997 Turbo exists in two forms; gen 1 and gen 2. There are important powertrain differences between both which you must consider when planning an investment.
Gen 1 cars use the 463 bhp, 460 lb ft 3.6 litre VTG twin-turbo Mezger engine which is capable of sending the Turbo from 0-62mph in just 3.7 seconds and on to a top speed of 193mph, with the standard manual gearbox. It's worth noting that Gen 1 cars were offered with the older five-speed Tiptronic S gearbox and not that later, 7-speed PDK system found in the Gen 2 cars, which is significantly better.
As for the Gen 2 powertrain, the race-bred Mezger engine was replaced with a 3.8-litre DFI derivative twin-turbo unit. It produces 486bhp and 480 lb ft of torque. For all intents and purposes, the Gen 2 is a more advanced car, featuring optional torque vectoring and a reworked version of Porsche's Traction Management four wheel drive system. It is however likely out of the £50,000 price range right now.
Read: Porsche 911 Turbo review
In terms of pure performance alone the 997 Turbo still feels like a very fast car. Older gen 1 manuals are also very involved as a driving experience, mating huge performance to three pedal driving thrills.
Used, there are a few things you really want to keep an eye out for. Clutches and tiptronic transmissions tend to be pretty tough, so in most cases you should be ok unless the car has been abused. The early Gen 1 car's Mezger engine has plenty of development history and proved reliable and strong enough to deal with upgrades. As with all MEzger engines there's no intermediate shaft failure to worry about. 
Worth noting, as pointed out in our 997 buyer's guide, is that resprays of the front nose section are common due to stone chips. Use caution if any paintwork repair has been carried out elsewhere.
Read: Porsche 911 buyer's guide
Similar to the R8, the 997 Turbo can make a fantastic day to day performance car that can deliver incredible thrills as well as being able to get you from A to B in comfort, although even when new the entertainment and infotainment system was woeful.
Buy a used Porsche 911 Turbo on Classic and Performance Car
| | |
| --- | --- |
| Engine | 3600cc, flat-six, twin-turbo (gen 1), 3800cc, flat-six, twin-turbo (gen 2) |
| Power | 463 bhp (gen 1), 486 bhp (gen 2) |
| Torque | 460 lb ft (gen 1), 480 lb ft (gen 2) |
| 0-60 mph | 3.5 sec (gen 1), 3.4 sec (gen 2) |
| Top Speed | 194 mph (gen 1), 194 mph (gen 2) |
| MPG | 25.7 |
| On Sale | 2006 - 2012 |
Ferrari 360 Modena - Jethro Bovingdon
Not to start things off on a boring note here, as it is a Ferrari after all, but a used 360 is actually not as expensive to run second hand as you might imagine.
It's the first truly modern Ferrari, with a reliability and build quality to back it up, which means maintenance costs are not as expensive as earlier cars.
Boring bit over, a used 360 Modena gets you a 3.6-litre 400bhp V8 and a 0-60 time of 4.5 seconds. It also gets you a Ferrari.
This means all the thrills of a proper supercar and, a rarity in modern terms, the option of a proper gated manual-shifter. Admittedly however close to 70 percent of 360s were specced with the optional 'F1' automated manual gearbox.
Read: Ferrari 360 Modena review
This brings us on to the first big checkpoint when buying a 360 used; the clutch. The F1 and manual gearbox are actually the same piece of kit, with computer controlled actuators sat where the shifter and clutch slave would be. The F1 box actually suffers from worse wear, with a clutch lasting around 8-15k miles, a manual can manage as much as 20k.
One other thing to consider is an issue with front suspension ball-joints. Knocking sounds and rattles can indicate an issue and a potential £1000 repair bill.
Read: Ferrari 360 Modena buyer's guide
Qualms aside though, the 360 is modern great, with an aluminium spaceframe chassis and computer controlled suspension. While not perhaps as daily driver friendly as the R8 or Turbo, it is far more special and doesn't have the potential to damage your wallet in quite the way older Ferraris might.
Buy a used Ferrari 360 Modena on Classic and Performance Car
| | |
| --- | --- |
| Engine | 3586 cc, V8, naturally aspirated |
| Power | 394 bhp |
| Torque | 275 ft lb |
| 0-60 mph | 4.5 sec |
| Top Speed | 189 |
| MPG | 13 |
| On Sale | 1999 - 2005 |
Porsche 911 (997) GTS Manual Carrera 2 - Henry Catchpole
A fairly specific choice here, but with good reason. The GTS Manual Carrera 2 is almost the sweet spot for a proper quality used 911 right now. Around £50,000 will get you a low mileage, Carrera GTS in good condition from as recent as 2010.
This means no need to worry about the mechanical issues an older performance car might develop and, for Porsche at least, a fairly modern feeling interior. It's also and much more importantly, means a manual gearbox, rear wheel drive and a 3.8-litre naturally aspirated DFI flat six engine with 408bhp. And no IMS to worry about. Perhaps best of all though is the old Porsche hydraulic steering which completes the driving experience.
Read: Porsche 911 Carrera GTS review
0-60mph takes 4.6 seconds while the GTS tops out at 190 mph. That's more than enough performance for your £50k, which when coupled again with the day to day usability of a 911 makes for an incredible ownership experience.
Things to look out for with every used 911 is evidence of accident damage and poorly repaired bodywork. At this age rust should not be an issue so any evidence suggests a poor repair. Mechanically the later DFI engine benefitted from Porsche removing the intermediate shaft which was prone to failure. 
As with the Turbo, be careful about resprays, but in reality the Carrera GTS will still feel pretty much nearly new.
Buy a used Porsche 911 GTS on Classic and Performance Car
| | |
| --- | --- |
| Engine | 3800cc, flat-six, naturally aspirated |
| Power | 408 bhp |
| Torque | 310 lb ft |
| 0-60 mph | 4.3 sec |
| Top Speed | 189 mph |
| MPG | 20  |
| On Sale | 2011-2012 |
The rest of our 'best cars' series can be found below: