You might baulk at paying £500 to upgrade the sat-nav system in a Skoda or spending four figures on a particularly intricate set of wheels on an AMG Mercedes, but those figures are merely par for the course when it comes to options prices.
Look to the rarefied world of performance and prestige and even the humblest options can cost serious money. We've scanned the price lists for some of the more extreme examples – both tasteful and otherwise – that one might find when specifying their next car.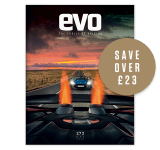 Subscribe to evo magazine
Subscribe today to have every issue of evo delivered straight to you. You'll SAVE 39% on the shop price, and get evo for its original cover price for a whole year!
Ferrari 458 iPod connection – £580
Wiring electrical connections into complicated modern cars can't be easy, but spending nearly £600 to hook up your iPhone to a Ferrari seems slightly unnecessary on a car with a six-figure price tag. Particularly when you're charged nothing to play your own music for free in a £8895 Hyundai i10.
Still, Ferrari might have argued there are better things to listen to in the naturally-aspirated 458. Notably, a USB connection is now listed as standard equipment on the new 488 GTB, as is Bluetooth.
Porsche painted air vents – £563-£806
We don't spare much thought to air vents at evo, provided they're reasonably effective at heating or cooling the cabin. But even if air vent connoisseurs existed, they'd probably find Porsche's painted vents a little steep.
Not only do they cost £563 on a Boxster and up to £806 on a 911, but you have to pay a further £806 to paint the air vent surround to match on the rear-engined car. Is it worth it to perfect your 911's interior? That depends whether you can even remember what a 911 air vent looks like.
Ferrari F12 carbonfibre cup holder – £2112
Carbonfibre has been used in aerospace and automotive environments for decades, first rising to prominence on road cars with the carbonfibre-bodied McLaren F1 in 1992.
Ferrari has resisted the temptation to build its volume production models from carbonfibre, instead using aluminium for cars like the 488 GTB and the F12 Berlinetta. It's not beyond using the material for trim pieces though – and this cup holder has to be one of the more flagrant uses of the lightweight composite we've seen.
Ferrari F12 golf bag – £6240
After the cup holder it's no surprise that Ferrari charges big bucks for certain options. Even less surprising is that owners will happily pay those prices to personalise their cars, often adding tens of thousands to the standard list price.
What's confusing though is the £6240 the company charges for a golf bag on the F12, when the same option on the outgoing 458 is 'only' £4320. Is the golf bag on a 458 too small for actual clubs, or does Ferrari think F12 buyers can spare the extra change?
Mercedes-Benz S-class Burmester 3D surround sound system – £6430
Around £4000 will get you a set of Bang & Olufsen's ultra-desirable BeoLab 18 free-standing speakers these days. Spend a couple of thousand extra on an amplifier and you'll have one of the best home audio systems around.
Alternatively, you could spend slightly more than that upgrading the stereo in a new Mercedes-Benz S-Class to Burmester's 3D surround sound system, and take it anywhere. Like the Bentley carbon-ceramic brakes further down, top-line audio equipment will no doubt be highly desirable among S-Class buyers.
Rolls-Royce Wraith starlight headliner – $12,925
Out of respect to its customers, Rolls-Royce doesn't disclose the price of its starlight headliner – at least in the UK, hence the US pricing above. The appeal of the option hasn't diminished though, even if Vauxhall will do you something similar on the Adam, albeit substantially less stellar, for a mere £325.
In the Wraith, the option includes 1340 fibre-optic pin-pricks of light, and for an extra fee the customer can even specify their own cosmological layout – in the past, the company has even arranged stars into the same constellations that would have been seen above its Goodwood factory when it opened in 2003.
Bentley Continental GT Speed carbon ceramic brakes – £10,200
Several manufacturers now offer carbon-ceramic brakes on their performance vehicles, so we're used to seeing four-figure prices quoted for race-inspired, fade-resistant stoppers. On Bentley's sportiest Continental GT however, it's a five-figure sum.
Nevertheless, such a desirable option on such an imperious high-performance GT is likely to be quite popular, both for performance and resale value. And should the Continental GT Speed ever be relatively affordable for used buyers, it pays to know how much a new set of brakes might cost.
Mercedes-AMG GT Solarbeam paint – £10,695
There are more expensive paint jobs on the market – Porsche charged $63,000 for some shades on the 918 Spyder – but spending over ten grand to paint a car like the AMG GT needs a deeper breath before signing on the dotted line.
It's not the first time we've seen such prices on a car of this price, however. On the Alfa Romeo 8C, a coat of shimmering Rosso Competizione cost a full £14,000. Like the Alfa though, AMG's yellow paintwork does give the car presence well beyond its £97,200 price tag.
Bugatti Veyron Super Sport wheels – Approx. £44,000
Little about the range-topping Veyron is cheap, not least its £2million price tag. But those using their 1200 horsepower hypercar enough to require three tyre changes will discover one of the more significant running costs.
To ensure the tyres are seated correctly on the beads, Michelin requires that owners replace all four of the Veyron's wheels at every third set of tyres. Okay, so that's not an option as such, but it's certainly one of the more ludicrously-priced necessary features of any road vehicle.
Pagani Huayra full carbon bodywork – Approx. £72,000
Spend more, get less. That's how it seems when you're charged an inordinate amount of money for Pagani to not paint your new Huayra. The reality is more beautiful than the theory, however.
Unpainted, Pagani makes sure the carbonfibre weave aligns perfectly across the car, rather than shooting off in unsightly directions. You're not paying more to get less, but to discover an even greater level of craftsmanship than a painted Pagani. And for the record, the same treatment on the Bugatti Veyron Super Sport when it debuted cost £192,000, so it's all proportional.